The Golden State Warriors have reportedly purchased a stake in the Dakota Wizards, a D-League team. Posted by Ben Golliver.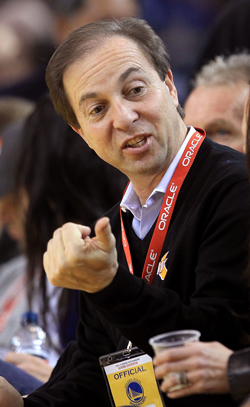 Bismarck, North Dakota, is a long, long way from the Golden Gate Bridge. The Golden State Warriors, under new owners Joe Lacob and Peter Gruber, have just shortened the distance considerably.
RidiculousUpside.com reports
that the Warriors have "bought into" the Dakota Wizards of the NBA Developmental League, giving Golden State the opportunity to run the Wizards as their exclusive affiliate.
The Golden State Warriors have bought into the NBA Development League's Dakota Wizards, according to a source with knowledge of the situation, making the two teams one-to-one affiliates for the upcoming season. The D-League team has called an 11 a.m. press conference on Tuesday in Bismarck, ND, to announce the new affiliation.

The Warriors are far from local, but considering the Wizards advertised 2011-12 season tickets in Monday's press release, there's a very good chance that the team will remain in Bismarck for at least the upcoming season.
With each passing month, Warriors ownership continues to put its money where its mouth is. Upon taking over the team last summer, Lacob and Gruber pledged to make the financial commitments necessary to turn the Warriors into a first-rate NBA team.
In the past month alone, the Warriors have shelled out big dollars for big name coach Mark Jackson, brought on NBA legend Jerry West as a consultant, and spent millions of dollars to buy a second round draft pick with which they selected project
Jeremy Tyler
. Now, they have invested in their own D-League team. That, my friends, is real commitment and smart ownership.
Of course, the Warriors are no stranger to the D-League. They've regularly sent players down for seasoning and have effectively used the D-League to find players who wound up sticking on their roster. Guys like
Reggie Williams
and
Anthony Tolliver
. Not to mention: When you draft players like
Jeremy Lin
, owning your own D-League team can really come in handy.
According to RidiculousUpside.com, the Warriors join the New Jersey
Nets
, New York
Knicks
and Los Angeles
Lakers
as teams that have bought all or part of a D-League affiliate in order to establish a direct affiliation during this offseason. Boom time for the D-League, apparently.