Posted by EOB Staff
When free agency starts there's a relatively lackluster class to choose from. Nevertheless, here are the top 40 players available in unrestricted or restricted free agency now that they tentatively have this sorted out.
Rankings are based on overall value, factoring in production, age, potential, star power, interest and market value. For the full list of free agents this offseason,
check out our tracker
.
1. Nene, C:
You're looking at a cornerstone piece in Nene, which means someone's got to pay cornerstone money. He's just now hitting his prime at 29 years old and as the second half of last season proved, he's top guy material. The
Nuggets
are definitely looking to put pretty much all of their eggs in Nene's basket, but there could be another big spender that tries to swoop in and grab him. He's a prize and someone that can be a building piece for the next four or five years.


2. Marc Gasol, C:
The perfect combination of factors lead Gasol to our No. 2 spot. Talent, capitalizing on a stellar playoff run, centers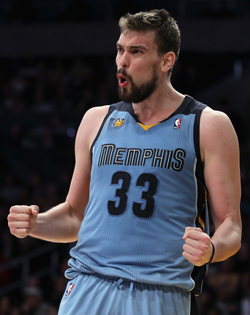 being at such a premium in the league and Gasol's age of 26. There are bigger names on this list, but no one is as valuable as Gasol. His restricted free agency status only drives his value farther, as a front-loaded contract is the only thing that might push the
Grizzlies
off matching an offer.
3. David West, F:
Were West not coming off of a significant injury at 31 years old, he'd likely be in the top spot on this list. A former All-Star with excellent mid-range skills and a heap of attitude, West opted out and enter free agency, presumably to attempt to get a front-loaded contract before any CBA restrictions drive down his long-term value. He'll have bidders if the
Hornets
don't quickly recapture him once free agency begins.
4. Tyson Chandler, C:
Hitting free agency just after being the starting center and a key factor for a championship team -- talk about great timing. Chandler is a lock to return to Dallas as there's no way Cuban lets the guy who validated all that work escape. But Chandler's going to have whatever offer he wants. Which is stunning for a guy who can't contribute much offensively outside of the lob. But that's the difference a ring makes.
5. Jason Richardson, SG:
Richardson's age is kind of a concern here; he'll be 31 next season. But he's the best overall offensive weapon and has a few more years of contribution left in him and is the kind of veteran that teams look for. Orlando may be looking to make room for a bigger trade, so Richardson could fetch offers on the market. But if teams have learned anything from the
Joe Johnson
valuation, they'll keep it within reason.
6. Thaddeus Young, PF:
It's really hard to imagine Philadelphia letting one of its very best young options get away, but Young has become one of the most lethal bench weapons in the game. He can realistically play three positions and is one of the game's most versatile players. He became a legit Sixth Man of the Year candidate and as he matures -- he's still just 23 -- he could become one of the
76ers
prized future pieces, making him a valuable asset.
7. J.R. Smith, SG:
Unstable? Probably. Unreliable? Possibly injured? He may be all of these things. But Smith's a scorer whose not on the downslide of his career. A sixth-man scorer with guts. Think
Ben Gordon
a few years ago with a worse attitude.
8. Glen Davis, PF:
"Big Baby" has a championship ring and has shown he can contribute to a winner. The only thing keeping him lower on this list is a disappointing playoff run after a tremendous season; 14 points and 7 rebounds per 36 with great defense and the ability to take charges will get him the rest of the way.
9. DeAndre Jordan, C:
In a normal year, Jordan's the top of the B rankings. This year, he's the seventh-best available player considering value. Jordan had a tremendous year for the
Clippers
and is nearly a lock to be re-signed by the Clippers. Then again, it's the Clippers. Jordan averaged 10 points, 10 rebounds and 2.5 blocks per 36 last season but more importantly started to show understanding of defensive rotations, which makes it much tougher to turn away from him.
10. Grant Hill, SF:
Anyone else think Hill's career is going in reverse? If Hill doesn't want to return to Phoenix, there will be contenders left and right vying for his services.
11. Tayshaun Prince, SF:
Part of the worst locker-room environment in the league last year, Prince should have a higher value, even at 31. He's still capable of excellent defense and averaged 14 points on 47-percent shooting last season. Seeing him in another jersey would be bizarre, but after last season's hijinx, it's a coin flip.
12. Wilson Chandler, SF:
Chandler's a young and versatile player. Denver is unlikely to re-sign him considering their need to get Nene back in house and they have Galinari and drafted
Jordan Hamilton
. Chandler has been rumored to be interested in a return to the
Knicks
, if they've got the scratch to pay him.
13. Jeff Green, SF/PF:
This one is mostly on account of his market value. Green is not a good rebounder. He can't really take over offensively, and he's not a great defender. But Danny Ainge thinks he's the bee's knees and will overpay to keep him, plus he could theoretically develop any of the aforementioned skills. This one caused some debate among our crew in developing these rankings.
14. Jamal Crawford, SG:
Crawford made it public knowledge that he wanted a big extension last year, but the
Hawks
declined to oblige him. Crawford is 31, and his numbers took a dive last season (42 percent FG percentage, 14 points per game down from 18). But he's likely to still pull offers based on star power. The question will be whether it comes close to matching what Crawford thinks he's worth. His playoff heroics should help matters on that front.
15. J.J. Barea, SG:
Barea's stock could not be higher coming off the Mavs' championship win. He answered every question about himself and showed the ability to compete at the highest level. He won't dictate a huge asking price due to his diminutive size, but for a role player, he'll collect a tremendous amount of interest, though like Chandler, it's certain Cuban will re-sign him.
16. Caron Butler, SF:
So many
Mavericks
, such a poor free-agency class to drive up their value. Butler's over 30, coming back from injury, and has been on the slide for quite a while. Still, veteran defender who can shoot (or at least can have a few hot shooting nights) is going to get offers. Cuban will likely re-sign Butler in a wave of goodwill on his championship high.
17. Aaron Brooks, PG:
The best point guard in the free agent class. How depressing is that? Brooks is a high-usage, low-assist-rate point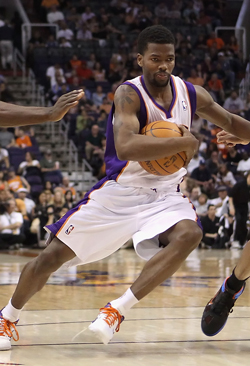 guard who's undersized. And yet because of his work in Houston before getting shuffled off to make room for
Kyle Lowry
, Brooks is rumored to be on the radar for Sacramento among others, but as a restricted free agent, the offer will have to be significant for Phoenix not to match.
18. Marcus Thornton, SG:
Guys who can drop 40 in a night are rare in this league. "Buckets" has that ability coming off his rookie contract. Yes, his shot selection needs work, and he's undersized for a two-guard, but he's scrappy, hustles and can hit big shots. Thornton should be high on every team's list if the
Kings
elect to let him slide after adding Salmons and Jimmer.
19. Arron Afflalo, SG:
A 26-year-old guard with great athleticism who shot 50 percent from the field last season coming off his rookie contract? Afflalo could be a steal if the Nuggets decide not to match for some reason. Odds are that he's headed back to Denver, though.
20. Samuel Dalembert, C:
Dalembert played surprisingly well last season for Sacramento. But he's an aging center with injury questions who has never contributed much offensively. So why is he top-20? Seriously. NBA centers. Not good right now.
21. Carl Landry, PF:
A below-average rebounder who learned to work well with
Chris Paul
(who doesn't) late last season. Landry didn't gather a huge contract last time he was in free agency and will probably not draw much this time. Still, he's a reliable power forward who's great defensively even if his defensive rebounding is a significant letdown.
22. Rodney Stuckey, PG/SG:
A combo guard's combo guard, Stuckey may have outstayed his welcome in Detroit, even in restricted free agency. Teams looking for quality guard play could definitely look to Stuckey who may have some improvement left in him at 25.
23. Kris Humphries, PF:
The Incredible Hump is looking to cash in after averaging a double-double, finding himself in the Most Improved Player discussion and locking down a Kardashian last season. The
Nets
have expressed interest in David West but will be very motivated to retain Humphries if that chase doesn't work out.
24. Shane Battier, SF:
After taking part in a miracle run past the San Antonio
Spurs
, it would be heartbreaking to watch Battier and the Memphis Grizzlies part ways. At the same time, Battier has reached the "latch on with a contender as a very valuable role player" stage of his career. Would be a huge get for a team looking for an experienced, gritty wing defender.
25. Mario Chalmers, PG:
Chalmers got buried behind
Mike Bibby
for no apparent reason by
Heat
coach Erik Spoelstra but, nevertheless, made a solid name for himself by being the most capable and consistent member of the Big 3 support staff. He enters free agency as a young talent with upside if given more minutes, but the Heat, without another point-guard option, will likely do what it takes to keep him.
26. Nick Young, SG:
When given the opportunity after
Gilbert Arenas
was dealt, Young became quite the scorer, finishing up at better than 17 points per game. He was a bit trigger happy however and one has to wonder how he'd fit in a more traditional offense. He's not a go-to scorer but will make a nice bench option or even second or third starting scorer for someone. But that's the thing: He has to realize that.
27. Luc Mbah a Moute, SF:
It shouldn't cost an arm and a leg for the
Bucks
to retain him. Even though the
Stephen Jackson
trade muddles up the available minutes on Milwaukee's wings, a low-cost, quality defender is worth keeping around.
28. Jeff Foster, C:
Life isn't very complicated for Foster. He's a lunch-pail worker who does the dirty work and not much else. He's getting up there in years but always seems to find a niche. Indiana's frontcourt is fairly shallow aside from
Roy Hibbert
, so if the
Pacers
strike out in their attempts to get bigger fish in free agency, Foster could be a good fallback option.
29. Jonas Jerebko, SF:
A tough-minded wing who has been lost because of injury and the coach-killing mess left by his higher-profile teammates. President Joe Dumars is preaching a fresh start after Thursday's draft, and it makes sense that Jerebko, a fresh-faced worker, would be a part of that.
30. Andrei Kirilenko, SF:
The Utah
Jazz
are finally freed from one of the ugliest contracts in recent memory. Where will AK land and at what price? Very difficult to say. He's a quirky guy who brings loads of versatility and should have some miles left. If a contender throws its mid-level at him, that could get real interesting.
31. Marco Belinelli, SG:
The Hornets have concerns than Belinelli. Namely, David West. Belinelli's future is uncertain, although his shooting is a clear role player asset that should draw interest, if not big dollars.
32. Kwame Brown, C:
The only other big man Charlotte has on its roster is
DeSagana Diop
, so if Brown leaves in free agency, there will be a gaping hole in the middle. That will be a sure sign that the
Bobcats
are truly committed to a full-scale rebuild. Once a punchline, Brown has emerged as a serviceable defender.
33. Greg Oden, C:
One less knee surgery and Oden's probably a top 15 free agent on this list. Two less and he'd be top five. But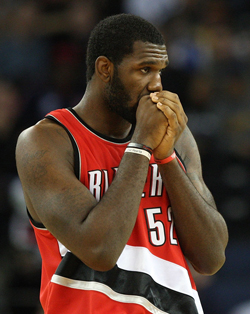 then, that's another universe, and the reality is that Oden is too much of an injury risk to devote money to. For all the promise born in his frame, there's a desperately terrible injury to go with it. At some point there's only so much damage you can do before you're relegated to lemon status until you prove you can stay on the floor.
34. Marquis Daniels, G/F:
Daniels wasn't a terrific player but a pretty good one. But he's coming back from a gruesome injury, and that's going to raise red flags.
35. DeShawn Stevenson, G/F:
The only Maverick free agent not in the top 20. Stevenson did a fantastic job in the Finals, but the "Ariza effect" is something to be wary of. A strong playoff run does not make up for an overall career of questionable production. Still, Stevenson could be a value pick up for another team... or they could overspend dramatically, blinded by the shine of his championship ring.
36. Earl Clark, F:
This one caused some consternation within the committee for where to put Clark. Athletic, low production, warned off in the draft, cast off by Phoenix, produced marginally for Orlando with some intriguing potential. But Clark is young, healthy and can be had for cheap. This is a value slot.
37. Tracy McGrady, F:
McGrady actually wasn't bad last year for the
Pistons
. I mean, the Pistons were bad last year for the Pistons, but still. McGrady isn't going to be a difference-maker, but he can contribute some points, assists and rebounds every now and then to finish out his career. Provided he stays healthy. You can file that under "Famous last words."
38. Josh McRoberts, PF:
McBob was surprisingly productive for the Pacers last season, and in a league where big men are overvalued, he'll find a spot.
39. Kenyon Martin, PF:
There are dozens of reasons not to sign Martin. But if you need someone with experience to bring a metric ton of attitude to your team, Martin's as good a pickup as any. Remember when this guy was part of a Finals squad?
40. Yi Jianlian, PF:
An unrealized offensive talent, Yi still seems like he should be every bit the player of an
Andrea Bargnani
. Yi's not a strong defender or rebounder, but at seven feet with touch to the 3-point line and just 23 years old, he's going to be worth a contract to see if he can sniff a little of that lottery potential.