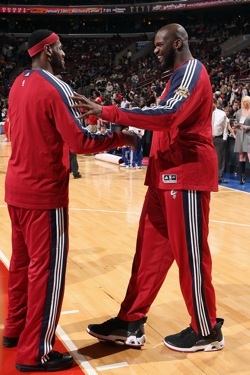 Posted by Royce Young
After the NBA Finals wrapped up, everyone seemed to have an opinion not just
on
LeBron, but
for
LeBron. He should do this, do that, pass here, score there. LeBron is the most talented player in the world and he didn't play as well as we all expected, so all of the chatter is understandable.
One person, though, that's not going to pile on and add his two cents? Newly retired Shaquille O'Neal. Not even if LeBron asked for it.
Via the Las Vegas Review-Journal
:
"No," said Shaq, during a red, white and green carpet interview before his retirement party at the Palms on Saturday.

"Experience is the best teacher," he said, adding, "Michael (Jordan) told me 'You must fall before you can stand.'"
Shaq is entirely correct. Experience often is the very best thing that LeBron can learn from. And that Jordan quote is one that's been slung around for a while. Jordan didn't win his first title until he was 28. LeBron is 26. (Though it took Jordan seven seasons to win it and LeBron just completed his eighth.)
The two were teammates in Cleveland for a season and are pretty close. I'm sure Shaq's communicated with LeBron, he's just not doing it publicly, because really, why should he when he can just call or text LeBron?
I do appreciate that Shaq isn't adding to the million-voice choir that's got a word for LeBron. Even if he ended up kind of giving some with his MJ quote, the fact that Shaq recognizes he doesn't need to contribute is nice. It's gotten a bit nauseating having every current, former and even future NBA player tossing out a thought or two on what LeBron should've done.
Know what LeBron should've done? Played a little better so his team could've won. End of story. He didn't. And now, like Shaq says, he's got a bunch of experience to use and think about for next season. LeBron has a good number of years left and though he's 0-for-2 in The Finals, that doesn't mean it's all over. Still plenty of time to write a legacy.
Just ask Dirk.