Dallas Mavericks forward Dirk Nowitzki says the team partied harder after losing the 2006 NBA Finals than they did after winning the 2011 NBA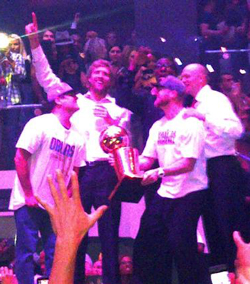 Finals. Posted by Ben Golliver.
Dallas Mavericks forward Dirk Nowitzki was an emotional unknown to the nation for more than a decade. A bit distant, subject to cultural barriers as an international player and not playing an overly athletic game, Nowitzki was a superstar who resided on the outskirts. He was rarely the hot story, unless you count the time he got bamboozled by his crooked fiance.
All that changed when the Mavericks defeated the Miami
Heat
in the 2011 NBA Finals. Nowitzki and the Mavericks were the nation's heroes, having slayed the new Evil Empire in South Florida. The enduring image of this newfound celebrity and accessibility came from South Beach's Club Liv, when Cuban, Nowitzki and company bought out the club and
partied with the Larry O'Brien trophy
in full view of thousands of cell phone cameras. This was the peak of happiness, the ultimate spoils for the victors.
The Dallas Morning News reports
, though, that Nowitzki told 1310 AM in Dallas that the Mavericks actually drank more following their 2006 NBA Finals loss to the Miami Heat than they did after winning the title.
"I actually think we partied harder in '06 when we lost just to forget about it than we did now. Yeah, we've had some good nights so far, my birthday was in there. In '06, Jet picked me up for the party bus almost every day, and we went somewhere just to make us forget and have a good time. We ended up in Vegas after three hard weeks. This year, we've had a couple of good nights, but I'm 33. My body can't recover, so you have to party one day, and the next day you have to be off. You can't go back to back when you're that old. Partying once in a while gets old. But I'll definitely put in some good work when I get to Germany when I see my friends, definitely be a couple of good nights there."
This is something you wouldn't expect and we likely wouldn't have known -- in full -- had Nowitzki not earned the teflon status we give to NBA champs. It follows in a long line of revealing statements and actions that we were witness to over the last month or so. Nowitzki the enigma was replaced by Nowitzki the showman and leader. Point blank: he opened up. He admitted to the media that he ran off the court following Dallas' Game 6 win so that he could cry in the locker room by himself, expressed deep respect and appreciation for his teammates and owner Mark Cuban, and displayed a subtle but sophisticated sense of humor in his post-game press conferences, dropping unexpected quips and honest assessments on just about any topic.
Of all the great things that happened during the 2010-2011 NBA season -- record TV ratings, an amazing playoffs, the emergence of young stars and new championship contenders -- getting to know a more humanized Nowitzki ranks at the top of the list. Experiencing the joys of winning with athletes is a euphoric sensation, but hearing about the pain of losing is fascinating too. Here, Nowitzki gives us both.