Former Denver Nuggets assistant coach Adrian Dantley tees off on his former boss, George Karl. Posted by Ben Golliver.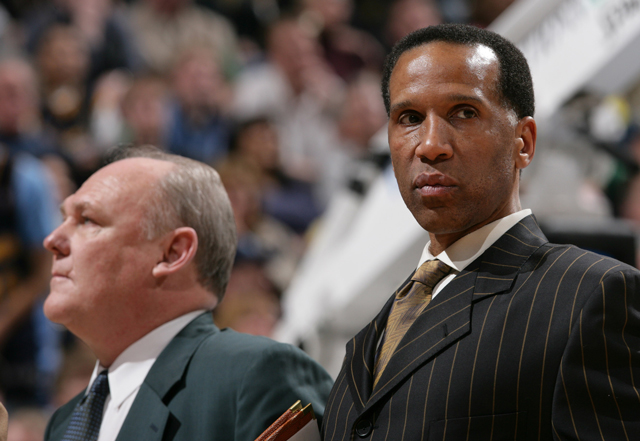 The NBA coaching fraternity resembles the Free Masons when it comes to tight-lipped secrecy. Rarely will you hear one head coach comment negatively about another head coach, and assistant coaches -- who rotate on a carousel around the league and have precious little job security -- almost never say anything publicly aside from supporting their boss or offering banal observations before or after a game.
In that context, former Denver Nuggets assistant coach Adrian Dantley's comments about his former boss, George Karl, qualify as an explosion.
Dantley revealed in a New York Post column
that his contract was not renewed by the Nuggets without warning, meaning he is now out of work. With an impending lockout and the early coaching carousel nearly complete, Dantley is obviously frustrated.
Then, in
an interview posted on DenverStiffs.com
, Dantley tapped into that frustration, claiming that he was let go because of how he handled himself after Karl was approached by other members of his coaching staff. Those coaches apparently wanted a chance to rotate into the front row of seats on Denver's bench, rather than sit behind the bench. Dantley, keep in mind, was the lead assistant on the staff and was tabbed by the organization to take over the head coaching spot when Karl dealt with throat cancer at the end of the 2009-2010 season.
"I didn't rotate,'' said Dantley, an NBA star forward from 1976-2001 who was named in 2008 to the Hall of Fame. "I wasn't going to rotate. If they (other assistants) want the publicity to sit up front, I don't need the publicity… I got no problem not being seen on TV and sitting at the back of the bench.''

Dantley would not single out any specific assistants. The New York Post reported "one or two lower-level assistants'' suggested the rotation to Karl.

"This had to do with a whole lot of backstabbing,'' Dantley said. "I got fired because I wouldn't rotate. And people felt uncomfortable (about that).''
Let's unwrap this, because it all seems really petty at first glance. Clearly, Dantley felt disrspected by the idea that he should have to rotate as part of the group of assistants. Given the time he had served, the fact that he was tapped to fill in for Karl when he was out, and the status quo that had existed before, it's definitely reasonable for him to raise questions about why a change to this policy was needed. From Dantley's perspective, nothing was broken, so why fix it?
Karl has been an NBA head coach for 23 years and he's earned a reputation for managing difficult personalities. He's handled much more difficult situations than this. (He coached
J.R. Smith
.) From Karl's perspective, once he decided to have his assistants rotate, everyone should have gotten on board with the decision. By refusing to rotate, Dantley was undermining Karl's authority, the ultimate no-no in coaching circles. Dantley's action might not have been an "on the spot" fireable offense but you can understand why it would peeve Karl.
The big questions here: Why did Karl decide to institute a rotation in the first place and were Denver's assistants really that desperate and bold to request a seat in front? Those are questions we might never get answers to. But from an NBA head coach's perspective, they aren't that important. When you coach in such a high-pressure, low-security environment with endless available alternatives to fill out your coaching staff, everything is "My way or the highway." Karl apparently issued his ruling and he expected it to be final. Dantley didn't like it and that festered. Karl waited until the offseason and then expressed his authority in full. End of debate.
The lessons here?
One: Assistant coaches, even long-tenured and respected ones like Dantley, have zero leverage.
Two: This situation seems like it could have been avoided with a few well-timed conversations between Karl and Dantley. In that respect, communication breakdowns and personality conflicts in the NBA are the same as they are anywhere else.