2011 NBA Draft prospect Brandon Knight says he's ready to lead a team right now. Posted by Ben Golliver.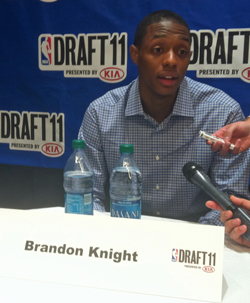 NEW YORK, N. Y. -- Brandon Knight isn't looking over his shoulder and he doesn't have any time to waste.
The one and done Kentucky point guard addressed the media on the eve of the 2011 NBA Draft, and it was the verbal equivalent of a rim run: straight, direct, no veering or wavering.
Knight, who averaged 17.3 points and 4.2 assists as a freshman, wants to be picked at the top of the board, he wants to start immediately and he wants to win.
"My competitive nature wants me to go as high as possible," Knight said.
One day before NBA Draft night, Knight is projected to go as high as No. 3 to the Utah
Jazz
and no lower than No. 7 to the Sacramento
Kings
. The Toronto
Raptors
at No. 5 are also a possibility should the Jazz elect to draft Turkish big man Enes Kanter at No. 3.
Knight holds himself to a high standard -- notching a 4.3 GPA in high school -- and is equally demanding in his expectations for his NBA home.
"A place that can use a point guard, a place that wants me, obviously," Knight said. "A place where I can compete. I don't want to go somewhere where they have no chance of winning at all. A place where I know I can compete, where I have great teammates."
The Jazz figure to be the best fit for that description. While they have a starting quality point guard in
Devin Harris
already in place, Utah certainly has a longer tradition of winning than either Toronto or Sacramento. Utah had made the playoffs four straight years before this season, which saw a trade of franchise point guard
Deron Williams
and the retirement of longtime coach Jerry Sloan. The Jazz also have a string of making the postseason 20 straight years.
The Raptors, meanwhile, have made the playoffs in just two of the last nine years and arguably have one of the two or three least talented roster in the league. The Kings are far removed from their glory days at the beginning of the aughts, having missed the playoffs in five seasons. A turbulent and tenuous ownership situation only makes seriously competing that much more difficult.
Pressed about his fit with the Jazz, Knight did his best to remain open to all possibilities.
"The draft is inexact," he said. "I might not be taken by the Jazz. I might. I definitely would be comfortable there. I had a great vibe with the coaching staff and front office."
Outsiders might view Utah as a perfect fit. Knight could serve as Harris' understudy, learning the pro game and gradually taking on added responsibilities and minutes. Knight doesn't necessarily see it that way.
Asked if he felt he was ready to step in and assume starting point guard duties from Day One, Knight, who is 19 years old, said, "Yeah, I do." No hesitation. No blinking.
He listed off the attributes he brings to the table in a methodical manner, stripping emotion from the process as if he was reading a boring legal document.
"The ability to shoot, spread a defense, defend other point guards, run a team," he said. "That's something I've got better at this year."
One thing he doesn't bring to the NBA? Second thoughts about returning to Kentucky for a sophomore season.
"Once I knew I might be a top 10 pick," Knight recalled without a trace of regret. "My mind was decided."
For all that readiness and self-assuredness, Knight did admit that one thing has tripped him during the pre-draft process: the travel.
"I've never really lived out of a suitcase before," he said, allowing himself a rare grin.
He'll get used to it.