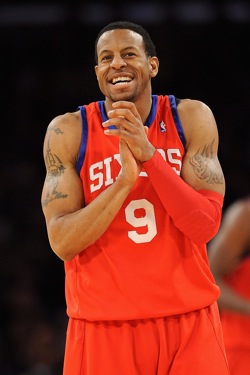 Posted by Royce Young
You see it all the time. A player's name comes up in trade discussions, things start to pick up momentum with multiple reports coming out with said player's name attached and then, a denial. The front office comes out and says, "We love [said player] and aren't actively shopping him. Those reports aren't true." Two weeks later, the player is traded.
I think this is known as the
Gilbert Arenas
Rule.
Just last week,
Warriors
general manager Larry Riley pulled the same thing with
Monta Ellis
.
This time, a breath of fresh air. Sixers president Rod Thorn, instead of denying the trade rumors surrounding
Andre Iguodala
, pretty much straight up admitted it.
"Obviously, with all the speculation, there have been some conversations that have involved him. We've had conversations that have involved other players on our team, too. I wouldn't say that we initiate the majority of the conversations [about Iguodala], but maybe some of them," Thorn told the
Philadelphia Daily News
. "I talked to Andre about 3 weeks ago. He's used to the speculation. In my time here in less than a year, there's been a lot of speculation regarding him. He's a pro; I think it's part of the business. He's always said that he would like to stay. He's never said he'd like to be traded. Not to me."
Well done, Rod. We appreciate your quasi-honesty.
We all know Iguodala is on the block, so to deny it would just be silly. Iguodala's been on the block for a while now and, finally, his name is coming up in some real discussions involving the
Clippers
, Warriors and even
Magic
.
With the draft just a day away, I'm sure Iguodala will be paying close attention as he's certainly a candidate to be moved.