The Cleveland Cavaliers have reportedly decided that they will draft Duke point guard Kyrie Irving with the No. 1 selection in the 2011 NBA Draft. Posted by Ben Golliver.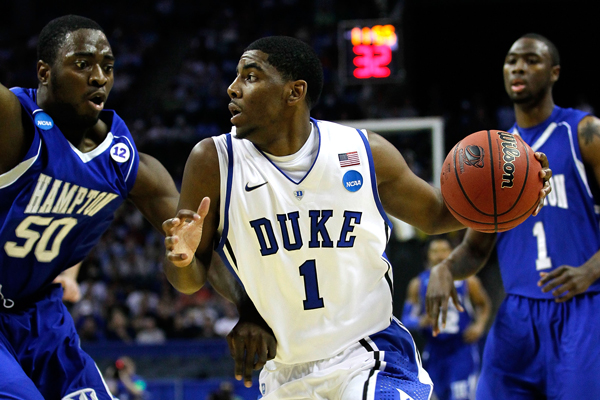 Have the Cleveland Cavaliers officially decided on their man?
The Cavaliers hold the No. 1 overall pick in Thursday's 2011 NBA Draft and have long been expected to take Duke point guard Kyrie Irving with the pick.
ESPN.com reports
that Cleveland has made up its mind:
The Cavaliers, after taking the temperature of the Timberwolves and Jazz to see if Kyrie Irving could somehow fall to No. 4 in Thursday's NBA draft, are now committed to the former Duke guard as the No. 1 pick and are fielding offers for the fourth pick, league sources said Monday.

In preparation for the No. 4 pick, Cleveland brought in Kentucky point guard Brandon Knight for a visit Monday.

And former Kentucky student Enes Kanter of Turkey, who was ruled by the NCAA to be permanently ineligible with the school, returned Monday for a second visit.
Meanwhile, the
Cleveland Plain Dealer
disputes the report on Twitter
, writing: "My NBA sources dispute ESPN report that Cavs have committed to Kyrie Irving at No. 1, but that doesn't mean they won't wind up taking him."
This one probably qualifies as non-news. Since the Cavaliers won the Draft Lottery, Irving has been penciled in as their selection. The only other prospect in the running for the No. 1 selection is Arizona forward Derrick Williams, and it would be a massive upset if the Cavaliers selected him over Irving.
Things get a bit more interesting with the No. 4 pick, as there is no consensus as to who should go there. Flipping the pick to another lottery team to move a few spots up or down is definitely an option that's in play. Trading out of the pick entirely to obtain a proven veteran to help make Irving's life easier wouldn't be the worst idea either.
It's just unclear how valuable the No. 4 pick in a 2-player draft is.