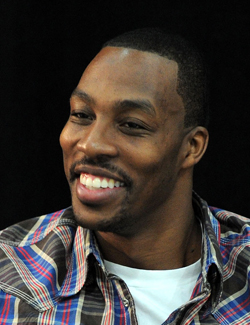 Posted by Matt Moore
You know, it had been awhile since we've had one of these.
Dwight Howard
's been so busy trying to get the media and fans off his back about being a free agent in 2012 (without ever ending the debate by saying "I'm staying, it's over, I'll sign the extension as long as the money's right," which it will be, of course) that he hasn't had any time to take pot shots at his coach, who keeps finding ways to drag the aging carcass of his team into the playoffs as a top four seed. This, with Howard still having offensive nights where the lob isn't there that make you shake your head sadly. So it's reassuring to know that Dwight's still out there. Waiting. Watching. Criticizing his coach over things he doesn't really understand.
In an interview with Hoopshype while traveling "The Continent" as some call Europe, Howard was asked about his teammate
Gilbert Arenas
and his struggles. Instead of pinning Arenas' struggles on adapting to the system, not being fully back from injuries, pressure or any number of easy-out answers, nor turning to even criticism of Arenas' mental preparedness or a reasonable discussion of how old Arenas is, Howard instead elected to pin the struggles on dear old Stan Van Gundy.
"I don't think our coach used him the right way, but I think he can do a lot of great things for our team," Howard said. "He promised me this summer he was going to get better, physically and mentally, so he can come back and have an awesome year. I'm looking forward to that.

"I just felt like he didn't get the opportunity to play his style but also play with me. I think he needed to. I think he got a couple of opportunities to do it in the playoffs, but it was kind of too late. So I think he will be great for us."
via
HoopsHype.com NBA Blogs - Jorge Sierra » Howard critical of coach's use of Arenas
.
There are any number of things idiotic about this comment. First, Arenas hasn't shown an ability to play "his style" in three years. Even when he was playing well for Washington before the click-clack, he wasn't playing at the level Orlando needs him to. And that will be two years ago once play resumes in the fall (if it resumes).
Second, if you're going to talk about that, don't talk about how it was a matter of SVG not using him right. If you feel that way, tell the coach. Sure, you're the superstar and get to do things like that, even though your talking about how people need to be used better on offense is like
Amar'e Stoudemire
giving defensive pointers (yes, it's true that Stoudemire
can
play defense, but it's not as if he's an expert, even if Howard's offense is worlds better than STAT's defense). But talking about it in the press only fuels posts like these that in other places will wonder how discontent Howard is with his coach.
This despite the fact that Howard went on to talk about SVG in good, if not glowing, terms:
"I think Stan did a good job coaching this year," Howard said. "He's had us prepared for every game, for every playoff series that I've ever been in… He's made sure that we were well-prepared. I like what he did."
See, now, a lot of outlets are going to skip right over that because Howard said Arenas wasn't used right. This interview was less about him slamming his coach and more about him throwing his considerable weight around. Not only did Howard give his thoughts on how a perimeter-offense-based guard should be used by one of the more complex strategizing coaches in the league, he also said he felt as if he should be included in decisions.
"I should be involved.. I think I deserve an opportunity to help make decisions as far as the future."
Right, because I'm sure Dwight Howard's understanding of the CBA (current or future) is/will be exemplary. I'm sure he has the experience to see how pieces fit together, what does and does not work with him regardless of his perceptions.
Next up, Dwight Howard will be asking to take over brain surgery at your local hospital and criticizing the design of your local power plant. Just don't ask him to sign a contract to stay long term to help those places get the stability they need.
That would be asking too much.