Posted by Matt Moore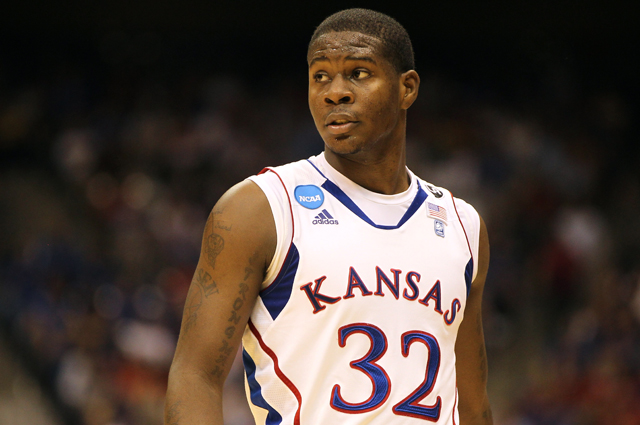 Let's face it. The NBA Draft is a crapshoot. There are obvious mistakes, which should be avoided. There are obvious reaches, which if they don't work out look terrible and if they do work out, earn management awards. You can have the top pick one year and net a Hall of Famer, and the next year you can have the top pick and net nothing more than a pick you're trying to unload a year later. "Always draft the big man" works, unless that big man is
Hasheem Thabeet
. "Best talent available" is a great ethos, unless you create a logjam on your team which frustrates all the players involved. And sometimes, there are just guys you need to be leery of before you say that name into the phone in Newark.
Here's a brief list of guys who could wind up great but also could have higher odds at busting. Fear factor is on a scale of one to five, with one being "sure-fire lock" and five being "you may wind up burning jerseys or your favorite GM in effigy."
Jimmer FredetteFear Factor: 3
When the tournament ended and it came time to analyze The Jimmer's NBA prospects, the talk was mostly about Fredette's diminutive frame. Players of his prototype do not tend to translate well. The college game is great, it's just dramatically different than the NBA and players who succeed with the kind of gunning Fredette did in college don't necessarily make the leap. Then, the scrutiny was so high you had a backlash like a rubber band snapping back. "Jimmer's just a great basketball player." "Anyone who can play ball like that in college can play in the NBA." It went on and on. Fredette and his people helped out by taking a bold and aggressive approach, gunning for Kemba Walker and Brandon Knight in workouts and impressing based on expectations. The key being "based on expectations." By exceeding the poor showing people expected, Fredette has gained traction to rise up the ranks. It's not about getting higher than Knight or Walker, it's just about getting as high as he can.
But the same elements are there that have always been there. The limited size, length, athleticism, the unfamiliarity with running an offense, the inability to launch without a conscience, they're all still there as concerns for how he'll adapt. But Fredette has college star power and that can blind. Maybe Fredette will smoothly transition to a new role and never environment. But the concerns should still be there. Sometimes removing context is a good thing.
Bismack BiyomboFear Factor: 4
Super-athletic foreign big comes out of nowhere, ramps up a ton of hype, then goes to workouts and .... wah-wah. Biyombo has talked about leading the league in blocks and rebounds. Bravado is excellent. But it can also belie an effort to gain a foothold on something other than ability. Biyombo brings great length and athleticism but no polish or offensive repertoire. So he's kind of the anti-Jimmer. But players in Biyombo's mold can either be a revelation or a colossal bust. Just for comparison's sake, the last player similar to Biyombo in terms of physical nature was Thabeet.
Good luck with that.
Kemba WalkerFear Factor: 3
Similar concerns as Fredette, only magically shorter.
When Walker measured in at 6-1 vs. the 5-11 many scouts had him pegged at, the phrase "See, he's not short at all!" was used. This despite the fact that he's still short, he just plays and seems shorter than he actually is. Walker has a tremendous scoring ability, but defensively there are going to be questions. There have been plenty of players of diminutive stature to make it in the NBA and even become borderline stars. But few of them have been drafted at Walker's projected position or with his expectations. Walker was the college player of the year for a reason. He was also kept out of the top ten for most of the year until the talent stampeded out at the end.
Josh SelbyFear Factor: 5
Highly touted high school project clashes with established, respected coach which results in him not playing at all down the stretch, then somehow vaults up the rankings. We've seen this one before. Selby's performances at workouts early in the draft process at Impact in Las Vegas have helped land him back in the first round. But Selby showed little more than perimeter shooting during Kansas' season, and the fact he couldn't get along with Bill Self raises a number of flags. Selby could be the type of player who just landed in a bad situation for him, but he could also be a headcase without an all-around game.
Donatas MotiejunasFear Factor: 5
Might not come over from Europe, questionable defensive ability, questionable rebounding effort, questionable basketball ability beyond size. Motiejunas has the whole bag of concerns in one Euro Center package. Stick away from this one.