Posted by Royce Young
Mark Cuban said he was thinking of doing something bigger -- or at least different -- for the Mavs championship. Rings are old news. Time to spice it up. (The team however isn't all that into it.)
Maybe
Dominique Jones
' idea was for everyone to get a matching trophy tattoo. And instead of waiting, he went ahead and did it.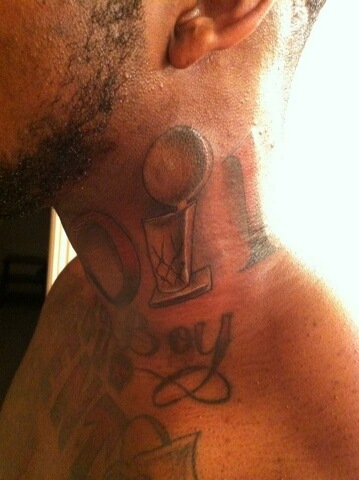 Of course
Jason Terry
had the Larry O'Brien trophy tatted on his arm before the season and promised he'd remove it if the Mavs didn't win the title. If you missed it, they did.
I do feel the need to point out though that Jones, while definitely a part of the team, played exactly zero minutes in the postseason and appeared in only 18 games during the entire season. He was just a rookie though and depending on
DeShawn Stevenson
's future with the team, Jones might find himself a little more playing time next year.
Regardless, Jones is an NBA champion now and he's got a tattoo to prove it. He'll end up getting a ring too I'm sure, but rings come off. Tattoos don't. Maybe that's the idea there.