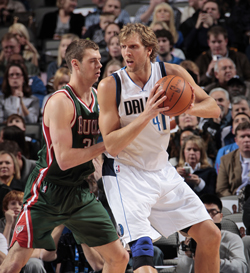 Posted by Royce Young
OK, Cleveland, it's over now. The
LeBron James
saga finally has a bit of closure. The season of vengeance and hate has ended, and now we can all pick up the pieces and take a step forward.
I understand you're psyched about LeBron's failure and all. If I were in your circumstance, maybe I'd respond the same way. But you burned the jerseys, booed him to death, cheered wildly when the Mavs beat the
Heat
and had a day honoring Dallas. I think that's enough.
But now? Now people are naming their unborn children after
Dirk Nowitzki
.
Via the NY Daily News:
A pregnant Cleveland radio host is getting the ultimate revenge on LeBron James for leaving the Cavaliers: she'll name her son after a star player on the team that beat the Miami Heat for the NBA championship.

Cherise Navidad, the host of a Saturday night show on Cleveland's Q104, says she's never gotten over James' televised announcement last July that he was going to leave his hometown to play for Miami.

"That's such a cruel thing to do," she said of James' announcement at the tail end of the much-hyped hour-long special on ESPN to announce his decision.

So, a year later, she's going to name her son after Dirk Nowitzki, the MVP of the Dallas Mavericks, who beat James and the Heat.
Why not just go all the way with this? Why not "Dallas" or "Maverick?" (Oh wait, not Maverick -- that's the reason LeBron's in Miami.) Or how about "Hatelebron?" Or "Lebronsucks?" I feel like Jerry in the "Seven" episode.
What about, Mickey?
She does make a good point though for all the people that are saying this is ridiculous. Navidad agrees. But she'll always have a fun story about how they got the name of their second child. She'll have to explain she made a silly promise on Twitter -- which obviously is a binding contract -- but it all happened because Dirk's Mavericks knocked LeBron and his evil Heat teammates off. As a Clevelander I'm sure that's something they will take great pride in.
Navidad said it's actually her husband's turn to name the child -- she named the first -- but said she promises the baby's name will include Dirk somewhere, even if it's a middle name.
Lebronsucks Dirk Navidad. Got a nice ring to it.