The NBA has officially cancelled the 2011 Las Vegas Summer League. Posted by Ben Golliver.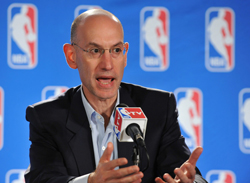 The clock is ticking on the NBA's labor negotiations, and the word is on Friday that the league has run out of time for one major annual event.
CBSSports.com's Ken Berger reports from New York City that NBA Deputy Commissioner Adam Silver confirmed that the league has axed plans to hold the 2011 Las Vegas Summer League.
"We also told the union at the conclusion of today's session that we would be canceling the Las Vegas Summer League this weekend and we made clear to the union it was purely a function of the calendar and drop-dead dates with hotels and the arena," Silver said. "No intent to send signals of any kind to the players, but it was an unfortunate consequence that, at this late date, we still do not have a deal beginning July 1."
The league's annual Summer League pits draft picks, second-year players, D-League players and unsigned free agents in a round-robin style format that typically brings the league's basketball executives and national media together in the desert.
Summer League has grown in popularity in recent years, and games are regularly televised on NBA TV. The event serves as both a first-chance look at lottery prospects for fans and as an excellent swap meet for executives looking to fill out their rosters.
This decision was widely anticipated and had been rumored for months. The league's Collective Bargaining Agreement is set to expire July 1, and Las Vegas Summer League typically runs through the second and third weeks of July. With games set to start less than a month from now and no major progress to report in the CBA negotiations, there's not much point for the NBA to continue delaying the inevitable cancellation announcement.