Posted by Matt Moore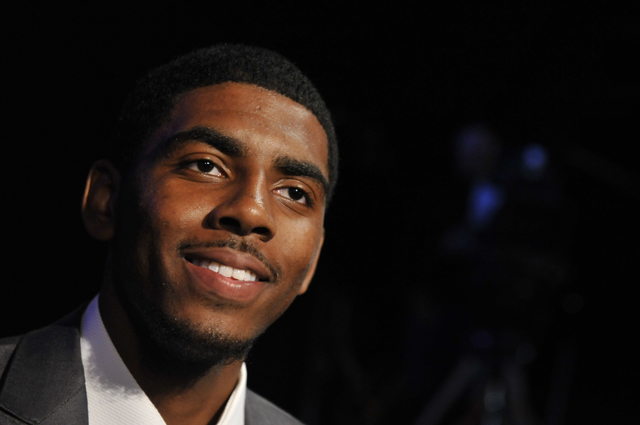 So the Cavs manage to hit the jackpot, win the lottery, and have a legitimate chance to start over. They've got a No.1 overall pick, the kind of asset that can become the next franchise player to lead a Cavalier rebirth, getting people excited about the team, taking them to the playoffs and eventually abandoning them leaving them crushed on national television.
Okay, that sounded mean. The point I'm trying to make, dear Ohioans, is that there's no way you get LeBron'd again. It was a once-in-a-lifetime screw-job and if Irving works out ability-wise, you don't have to worry about the utter demolition again thanks to ego and hubris. Now all you have to worry about is whether Kyrie Irving really is a franchise player.
At some point the overall diminished value of the draft started to have a weird effect on Irving's value. Despite the fact that Irving has been considered the top overall prospect since last summer when he blew doors off hinges in summer exhibitions, the fact that so many top players dropped out before next week's draft has somehow left Irving being considered less than other top picks.
The doubt isn't completely without merit. After all, Irving did miss most of his freshman year with an injury before returning for the NCAA tournament. If you don't think that can be a bad omen, please find the nearest Portland Trail Blazer Fan Support Group and sit in for a session. ESPN
recently noted that Irving's assists decreased and turnovers increased
in his latter games versus his earlier outings.
But given the context of Irving's games in terms of increased intensity on little to no practice and integration back into the team from injury, you have to look beyond just the metrics and more into the play style and approach. And both of those elements support the idea that Irving's going to be incredibly successful and well worth that Cavs pick.
Comparing a player to
Chris Paul
is pretty daring and will cause a great amount of "Whoa, ho, settle down there!" comments because, well, everyone freaks out if you qualitatively compare an unproven player to a player with high quantitative value. In other words, if you say that a patch of grass is like a $100 bill because they're both green, people freak out because the grass isn't worth the buck, despite that not being your point at all. You'll find the same phenomenon when you talk about
LeBron James
' post game, comparative religious philosophies and reality television shows.
But when you start to analyze Irving's game, you begin to figure out how those comparisons come about. Irving shows the smoothness of Paul's game, as well as the oh-so-rare established jumper entering the league.
Derrick Rose
,
Tyreke Evans
,
John Wall
, all of the elite point guards of the last few years taken first at their position have lacked that jumper, with really only
Stephen Curry
a notable top point guard taken with the J already established. Irving on the other hand has a silk stroke but isn't just a shooter. He's got the playmaking ability. While he doesn't have Paul's vision (who does?), again, we're talking about qualitative ability, and Irving can play in CP3's role, even if he's not as incredible.
One of the minus points on Irving in comparison to Rose and the other Calipari star guards is Irving's limited athleticism. But really, it's only limited in comparison to those other super-freak athletes, and Irving has a shorter distance to go in terms of polish. While Irving doesn't have the straight-line speed of the other elite point guards, he does have great quickness which is just as valuable in the half-court set.
Beyond all this though, is an attitude that is key in establishing a franchise-player quality prospect. In the NCAA tournament, Irving had every reason to be passive, returning for the first time in months to an established team with more senior stars. Instead, Irving immediately gave the Blue Devils the necessary spark to make it as far as they did, even with Derrick Williams crashing the party (and making his own claim to that No.1 spot). Irving made plays at both ends, converting steals into scores and knocking down transition 3-pointers. (Imagine that, a point guard with range, in this day and age.)
The
Cavaliers
could use a player who doesn't have the kind of ego their last mega-star did. They could use a player who can make his teammates better without operating a frequency that makes him difficult to play with. They could use a player who can immediately act as a scoring threat and run the offense efficiently. Are Irving's turnovers a concern? They were a concern for all the great point guards in their first season (and continue to be for the MVP). They're a product of usage. And while Irving isn't the most pure of all point guards, he's still capable of running an offense. That's a different type of building block. Coaches constantly talk about consistency. Irving's curve for consistency is much shorter than other prototypes.
Maybe his highlight reel isn't as flashy, or his athleticism as knock-your-socks-off. But if we're examining talent and capability, Irving shows every sign of being the franchise player the Cavaliers need him to be. Now all they need is to take him. If they don't, with Minnesota committed to
Ricky Rubio
... chaos breaks out in the draft really quickly.
Irving began the year as the top overall pick in the mock drafts. When Thursday night rolls around, it should be his name said first, and the Cavs should feel good about trusting him with the wheel of the fortune-ravaged franchise.