Portland Trail Blazers GM Chad Buchanan says the team is being "very aggressive' in pursuing trades and that point guard Andre Miller is drawing "a lot of interest." Posted by Ben Golliver.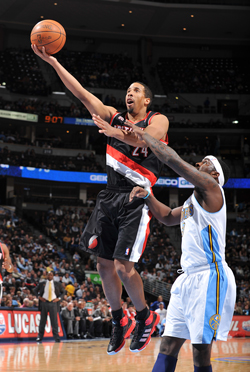 PORTLAND, Ore. -- The Portland Trail Blazers have gone through two GMs in 11 months and have endured too many knee injuries to count. In that time, there have only been a few constants. At the top of the list: point guard Andre Miller.
Miller has missed just one game since 2002-2003,
a forced suspension that resulted when he body-checked
Los Angeles
Clippers
forward
Blake Griffin
last December in retaliation for what he felt were two dirty plays in rebounding scrums.
Since arriving in Portland in the summer of 2009, Miller has moved into a starting role, averaging 12.7 points and a team-high 7.0 assists in 2010-2011 despite being 35 years old.
His on-court consistency hasn't bought him any certainty this offseason. His $7.8 million contract for next season is fully non-guaranteed, meaning the Blazers can choose to waive him prior to June 30 without needing to pay off the balance of his deal.
Speaking from the team's Tualatin practice facility on Thursday, Blazers Acting GM Chad Buchanan said that while the team values Miller's play, it is keeping its options open.
"We've spoken with Andre a little bit," Buchanan said. "Obviously he's aware of what his contract situation is. He knows how we feel about him. We're going to see as we listen around the league. There's a lot of interest in Andre for various reasons. At the same time, we value him and realize what he's done for us the last two years.
"There's a lot of respect around the league for Andre. Both for what he's done for us in his entire career, people talk about his age but the guy hasn't missed a game in seven or eight years."
Teams could be interested in Miller for two reasons. First, as a steady veteran point guard (starting or back-up) who can still produce at a rate that makes the $7.8 million figure not look totally outrageous. Second, the non-guaranteed nature of his deal means that it functions an expiring contract to facilitate a draft day move. Trading for Miller could help a team match salaries or dump a contract on or around the draft day before waiving him prior to June 30, avoiding any future salary commitment.
Reading between the lines, the Blazers seem to be exploring their options and approaching Miller as their fall-back option at point guard.
"If Andre is back as our point guard next year we're very happy with that," Buchanan said. "Like any other player, if there's a chance to improve your team, you're going to listen to what offers are out here."
Miller was
reportedly shopped at the February trade deadline
but remained in Portland after the Blazers traded a package of smaller assets to acquire forward
Gerald Wallace
from the Charlotte
Bobcats
. Buchanan said that the team is being "very aggressive" in pursuing draft day deals and admitted that point guard is a position that needs to be addressed.
"The point guard and some depth in the frontcourt is going to be something that we have to address," Buchanan said. "Andre has been a rock for us but we realize where he's at, the stage of his career, we're going to have to address that position moving forward at some point. [Center]
Marcus Camby
is obviously at the tail end of his career as well. Those are kind of the two areas that we're looking to address, whether it's draft, through trade or free agency."
Buchanan, who stepped in as acting GM when former GM Rich Cho was abruptly fired by owner Paul Allen in May, seemed excited when he said that draft week trade talks are already underway.
"This time of year around the league, it's a lot of dialogue between teams," Buchanan said. "We've been very aggressive reaching out to teams and we've had a lot of calls. There's a lot of interest in some of our players as you can imagine. A lot of dialogue. As you get closer to the draft, there's a lot more serious talk. The offers get a little more concrete at that point. Up until now, it's a little more flirtation, you could call it, between teams. In the next four to five days things will pick up even more."
Conventional wisdom in Portland dictates that any trade involving Miller this summer will net a starting caliber point guard in return. Behind Miller, point guard isn't exactly a position of strength for Portland. Backup Patty Mills could become a restricted free agent this summer if Portland extends a qualifying offer to him. Otherwise, Portland's optinos are to play off guards
Brandon Roy
or
Rudy Fernandez
out of position or turn to two relatively untested guards coming off of their rookie season:
Armon Johnson
and
Elliot Williams
.