Sacramento Kings forward Jason Thompson suffered a fracture in his right big toe. Posted by Ben Golliver.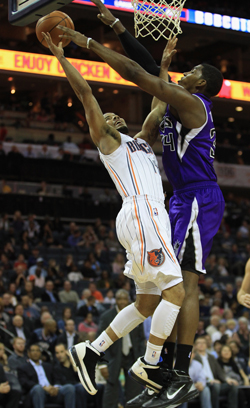 The Sacramento Kings announced on Thursday that forward Jason Thompson has suffered a bone fracture in his right big toe that will keep him off the court for at least a month.
X-rays taken (Wednesday) at the UC Davis Sports Medicine Clinic revealed that Sacramento Kings' forward Jason Thompson has a non-displaced sesamoid bone fracture in his right great toe. He will wear a walking boot for approximately four to six weeks, at which time Thompson will be re-evaluated.
Shortly after the announced injury, Thompson
posted an optimistc message
on his Twitter account. "I will be back in no time... Better now then later!!... My work ethic will get me back into things sooner than Later... Let's go."
Thompson is right. Given the timing of the injury, this should be a minor bump in the road in what's already been an up and down three-year career.
In the three seasons he has been in Sacramento, the Kings have won just 66 combined games. While Thompson has started a fair number of games in each of his three NBA seasons, he's yet to make an impact that keeps him in the starting lineup on a permanent basis.
In 2010-2011, his numbers took a hit across the board, as he averaged a career-low 23.3 minutes per game and put up just 8.8 points and 6.0 rebounds in those minutes.
Thompson, 24, is on the books for $3.0 million next season.