New York Knicks forward Amar'e Stoudemire says Michael Jordan connected with people but LeBron James doesn't. Posted by Ben Golliver.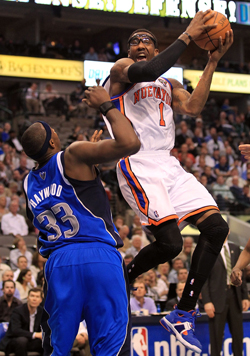 I had no idea that New York Knicks forward Amar'e Stoudemire was such a sage public relations guru.
After LeBron James lost the 2011 NBA Finals to the Dallas
Mavericks
, he caused a bit of a flap when he said: "All the people that was rooting on me to fail, at the end of the day they have to wake up tomorrow and have the same life that they had before ... I'm going to continue to live the way I want to live and continue to do the things that I want to do with me and my family and be happy with that."
A few days later, after some immense criticism, James
wisely walked those statements back
.
Enter Stoudemire, who sees these comments as a fundamental flaw for James and a major differentiating point between him and former Chicago
Bulls
star Michael Jordan. Here are his comments,
delivered to the New York Times
:
"I think you have to conduct yourself in a way that people can relate to you," said Stoudemire, who led the Knicks back to the playoffs this season after the team posted its first winning record (42-40) in 10 years. "The more they can relate to you, the more they will appreciate you."

"Everybody has their own way of commenting on things, but I would have commented differently," Stoudemire said. "One thing about Michael Jordan was that no matter how great he was and how much of a platform he stood on, he still related to all the hard workers out there in the world.

"I think LeBron is still young," Stoudemire added, "and there is still time for him to reconnect with the public."
Stoudemire couldn't be more right. He's highlighted the base level difference between Jordan and James.
In a way, his point goes back to the recent news that James
refers to himself as "King"
when he text messages other NBA players. Not only does James struggle to connect with the working man, he struggles to connect with reality. He has earned so much money and had the world at his fingertips for so long -- half his life -- that it's quite possible, despite Stoudemire's hope, that James will never be able to reconnect with the average person.
Sure, winning would go a long way to help boost his popularity, but won't a title simply cause more people to idolize him or despise him rather than bridging the gap? Has he reached a level of polarizing fame where there is no turning back? It sure feels that way.