Miami Heat forward Chris Bosh is being sued by the mother of his child because she wants to appear in a reality TV show. Posted by Ben Golliver.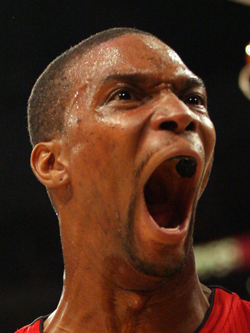 Just what Miami Heat forward Chris Bosh wants to deal with after losing the 2011 NBA Finals: A lawsuit.
Back in May, we noted
that Bosh sued Allison Mathis, the mother of his child, to prevent her from appearing on VH1's
Basketball Wives
, a reality television program. The suit claimed that Mathis was "infringing his trademark and publicity rights."
Apparently the legal tactic worked.
The South Florida Sun-Sentinel reports
that Mathis is launching a suit of her own, claiming that she was fired because of Bosh's suit.
Allison Mathis, Bosh's ex-girlfriend, claims in a lawsuit filed Monday in Orange County Circuit Court that Bosh "intentionally, knowingly, maliciously and without justification interfered" in her employment, prompting the television show's production company to fire her.

Jane E. Carey, Mathis' attorney, released a statement that read: "Ms. Mathis was employed to appear on this season of the reality TV series "Basketball Wives." Chris Bosh is using his vast money and all of the power that comes from his wealth and celebrity to silence her."
I'm still not sure why Bosh cares so much about his trademark rights. In the last year, he's posed in
weird magazine shoots
,
broke down crying
on national television,
secretly got married (maybe?)
and was
compared to Rupaul
. Most of those incidents were blown out of proportion and the criticism from some has been unfair. But the point stands that his brand isn't exactly untarnished.
Will anyone really look down on him for whatever Mathis says or does on the show? This seems a little vengeful.
Then again, Bosh is in
a separate custody battle
with Mathis, so maybe that lawsuit explains this one.