Bill Duffy, president of BDA Sports, says Portland Trail Blazers center Greg Oden has undergone "interventions" to help deal with the mental strain of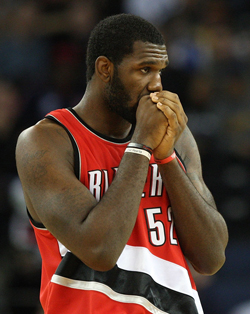 being injured. Posted by Ben Golliver.
Portland Trail Blazers center Greg Oden, the No. 1 overall pick in the 2007 NBA Draft, has had trouble staying on the court, playing just 82 games in his four-year NBA career. Throughout the trials, which have involved multiple microfracture knee surgeries and a fractured patella, Oden has received support off the court.
Bill Duffy, president of BDA Sports, the agency that represents Oden,
told Portland radio station 750 AM
on Wednesday morning that the center has received professional help in dealing with the mental side of all the injuries.
"Counseling, therapy, interventions, just to let him understand all the pressures, not to put too much pressure on himself," Duffy said. "Everybody needs that. Not just an athlete but someone to talk to and share your thoughts and your concerns and just get reassurance. If you do things the right way, stay patient, keep your eye on the prize, you'll be fine."
In 2009, Oden
revealed to Yahoo! Sports
that he had visited a sports psychologist, however there has been no previous talk of interventions publicly.
Reached by telephone Wednesday, Portland Trail Blazers Acting GM Chad Buchanan, newly installed after Blazers owner Paul Allen fired previous GM Rich Cho in May, told CBSSports.com that he personally had not been a part of an intervention with Oden but refused to divulge any additional information.
"I'd rather not confirm or deny any of that," Buchanan said. "I was not involved with it. I couldn't tell you either way."
In September 2010,
The Oregonian reported
that Oden had stopped drinking and going out to clubs. "My first year (2007) was probably my worst," Oden told the paper. "But after that, I definitely cut back. I never thought that I had a problem or anything. I actually stopped last season."
Asked whether Oden's interventions were to express support for him or whether they were specifically related to drinking or substance abuse, Buchanan again refused to comment.
"That's something I'd rather not comment on," Buchanan said. "Greg has been great for us and anything that took place along those lines is between Greg and his people. Greg has been awesome for us."
Oden is currently rehabilitating from microfracture surgery in November 2010. Microfracture surgery generally carries a 12 month recovery time period.
"You proceed with caution," Duffy told 750 AM. "We don't want to come back too soon. We're not going to even challenge it until we get to that 12 month threshold. If it were December or November or January we just can't afford any more slip ups. We'll wait until we get full clearance and then probably err on the side of caution, maybe a month or so after that."
Buchanan's timeline was slightly more optimistic -- sometime between October and December -- but he said the Blazers, who must issue a qualifying offer to Oden before June 30 to make him a restricted free agent, would work with Oden, his representatives and the medical experts to establish an appropriate timeline for his return.
"We'll work together collectively, Greg and the doctors and us," Buchanan said. "We're still a little ways out. It's hard to put a timeline on it other than what you can go by historically from a player recovering from a microfracture. We're going to be supportive of Greg making sure he feels 100% comfortable to get back on the court. We're going to rely on what both Greg and what the doctors tell us. We want to make sure that he's in the right mindset as well as the right physical condition to get him back on the court. We're going to wait until all the conditions are right for him to get out there and play again."