Posted by Royce Young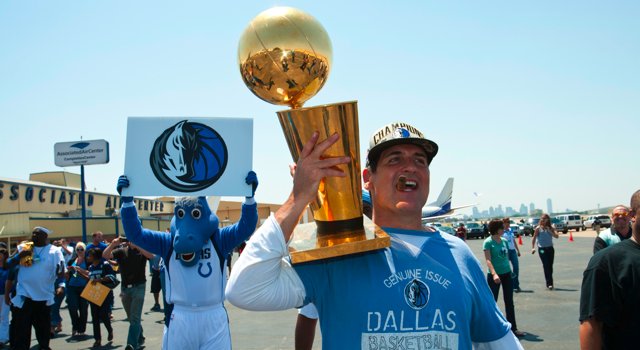 The trophy, I mean. Geez, you guys.
Mark Cuban joined 105.3 The Fan in Dallas
to talk about all the emotions he's gone through since his
Mavericks
took home their first NBA championship. So many emotions that he stayed up all night just staring at the Larry O'Brien trophy.
He may have been the most excited man in Miami last night and I woke up to a tweet that said 'this might be weird, but I'm laying next to the World Championship trophy.' I don't think it sounds that weird at all. Is that a true story Mark?

"It's true. I haven't fallen asleep yet. I'm still up from last night. Did someone throw a no-hitter?"

How long before you let someone else take that NBA Championship trophy?

"I grabbed it. I wouldn't let anyone take it from me. We went out and had to show it off some with some our friends last night and then back to the hotel. I was like 'It's mine baby! It ain't going anywhere!' Literally I couldn't fall asleep. I was answering emails. I just set it down on the bed. I was just starring at it. I'm like 'Is it good for you two?' "
Cuban was then asked about his idea to do something bigger and better than championship rings. (
TBJ has some great ideas.
I like the commemorative plate idea.)
"It's not a backup plan. It's a change the rules plan. It's just like I'm going to sit down and I had some brief conversations with Dirk [Nowitzki], Jay Kidd, and Jason [Terry]. We want to change the game. What I told them was 'Look everybody wears short shorts until the Fab Five came along and then everybody went to long shorts. Now short shorts look outdated.'

I said we want to do the same thing when it comes to rings and how we represent or how we record the fact that we won a championship. Part of the fact is that it irks the hell out of me that you got into towns where teams have won a ring or won a championship and you know the ball boys, the towel boys, everybody has got a ring. It kind of deflates the value and the impact, so I don't know exactly what we are going to do, but we are going to try to change the game."
Oh, oh, I got it. Everyone has to get matching
Jason Terry
championship trophy tattoos. Problem solved.
Via Sports Radio Interviews