Posted by Royce Young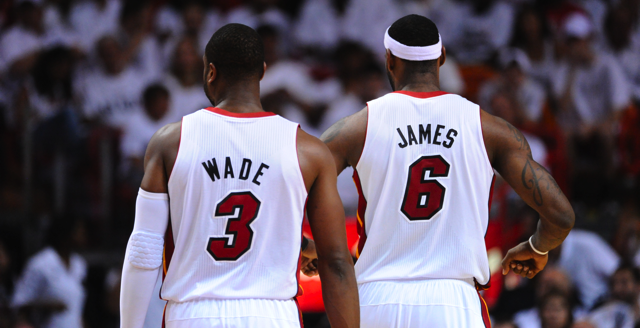 MIAMI -- They didn't win it all. They came up short. And so the
Heat
are left asking themselves questions today. Why didn't they get it done? What went wrong? And what can they do to fix it?
Reality is, they were two games short of an NBA title and the way the series went, they can kick themselves quite a bit for blowing it. Dallas was absolutely the better team and rightful winner, but remember: The Heat blew a 15-point fourth quarter lead and had Game 4 in their grasp before faltering late again. So it's not like they have a thousand mile road to walk. They're at the gates. They've just got to break through.
But here are five questions they'll be asking this offseason.
1. What's missing?
Obviously the weakest link on the team is the point guard position. The Heat tried out
Carlos Arroyo
,
Mario Chalmers
and eventually
Mike Bibby
before coming back to Chalmers in Game 6 of The Finals.
LeBron James
and
Dwyane Wade
handle most of the playmaking responsibilities, but they need someone reliable and responsible to run the offense well and defend his counterpart.
So much the reason the Heat's offense bogged down in big spots was because there wasn't real chemistry or cohesiveness on the court. That could be remedied by having a solid floor general next to LeBron and Wade to make sure each set is ran properly. Chalmers isn't a horrible option, but he's a really strange player. One second great, the next horrible. And consistency is extremely key here.
2. Is Erik Spoelstra the right man for the job?
My opinion (because who else's would it be?) -- yes. There's absolutely no reason to give up on Spoelstra just because of the way The Finals played out. Everyone wants to find a reason for the Heat's demise, and while Spoelstra certainly has blood on his hands, if LeBron hadn't disappeared, Miami would probably be planning a celebration today or at least practicing for a Game 7.
Spoelstra is still one of the youngest coaches in the league and considering all that he managed and had to work through this season, I'd say he did a pretty terrific job. So much outside distraction, so much drama. But Spoelstra took his team -- which has a ton of talent of course -- to within a couple wins of a championship. Could he have done better? Duh. But there's a lot of blame to go around with the Heat. Just like the
Mavericks
won as a team, the Heat lost as one, top to bottom. Continuity is a good thing and pinning it all on Spoelstra simply isn't fair.
3. Is there something structurally wrong with the roster?
Yes, absolutely. Not in terms of Wade and LeBron not fitting together. But just in terms of vision. Pat Riley, for as good a job he did in constructing this monster of a team, sort of panicked and didn't stick to his original plan of filling out the roster with young talent that can grow alongside Wade, LeBron and Bosh. Instead, he sort of panicked and started piling up aging veterans at minimum contracts.
I mean look at the back end of that roster.
Jamaal Magloire
,
Erick Dampier
,
Zydrunas Ilgauskas
,
Eddie House
, Mike Bibby,
Juwan Howard
-- that looks more like a group that should be playing in a Saturday morning men's league, not the NBA Finals. That's half the active roster too.
Riley needs to scrap the veteran plan and look to find some young talent to develop that fits around his big three. Players that can adjust, adapt and improve as they go along. A really nice core is there. Bosh, Wade, LeBron,
Mike Miller
,
Udonis Haslem
and even
Joel Anthony
can be a good piece. But the Heat need talent, not older guys trying to sail one last championship. There might be some growing pains to go through next season if Riley went that direction, but that's what LeBron, Wade and Bosh are for. They can carry you through while the young guys figure it out.

4. What's the offseason plan?
Say goodbye to all the expirings. Just let them walk right out. Peace out Mike Bibby, Zydrunas Ilgauskas (he's retiring anyway), Jamaal Magloire, Juwan Howard, Erick Dampier and even Mario Chalmers. I'd let them all go. Eddie House and
James Jones
both have player options so you have to think they'll exercise those.
But between Miami's top six players, they have almost $67 million tied up. So figuring out how to fill in a roster around those guys will be a challenge. And a lot of where their future goes depends on the new collective bargaining agreement. Assuming the system stays somewhat similar to what we have now, a couple veteran minimums and a then younger players that can develop. The Heat don't need a ton of depth. There's a flaw in the plan because they need a good point guard and they'll never have the money to get one, but that where Riley's got to earn his money. Go find one.
5. Are they the favorites in the East again?
Right next to the
Bulls
, absolutely. It'll likely be a three-team race between the Heat, Bulls and the aging
Celtics
. Orlando could make some noise and the
Hawks
aren't terribly far off. Even the
Knicks
could challenge for that four-seed with a full season of Amar'e and Carmelo.
But the Heat simply have the most talent in the conference. There are issues on the roster -- big ones -- but that should tell you how talented Wade, LeBron and Bosh are. They were able to win 58 games and reach the NBA Finals in spite of all those flaws. They need a little more help and a little more structure to the team, but there's absolutely no reason this group can't find themselves right back in The Finals again.