DeShawn Stevenson wears a shirt that says, "Hey LeBron! How's my dirk taste?" Posted by Ben Golliver.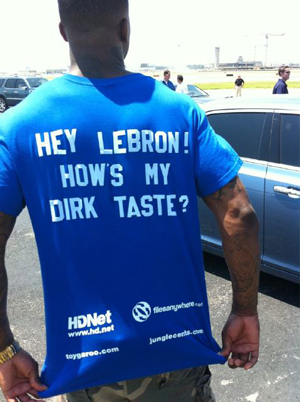 After poking and prodding Miami
Heat
forward
LeBron James
throughout the 2011 NBA Finals, Dallas
Mavericks
guard DeShawn Stevenson got in one final shot following Dallas' NBA title.
The Mavericks
closed out the series
on Sunday night with a 105-95 win in Game 6 before
taking to South Beach club LIV
to celebrate with the Larry O'Brien trophy.
On Monday, the Mavericks flew home to Dallas, where Stevenson was spotted wearing a Mavericks blue and white t-shirt with lettering that read: "Hey LeBron! How's my Dirk taste?"
That slogan is an obvious reference to a
Shaquille O'Neal
freestyle rap. O'Neal used the line, "Hey Kobe, tell me how my a** taste" to mock his former teammate with the Los Angeles
Lakers
,
Kobe Bryant
.
To add a play on teammate
Dirk Nowitzki
's name here is incredibly inspired work from Stevenson, who may well have created a legacy for himself as "The Guy Who Got Into LeBron's Head Completely" in these 2011 NBA Finals.
The most underrated part of this shirt is that it bears the sponsorship of HDNet, Dallas Mavericks owner Mark Cuban's television station. It's almost like Cuban is personally endorsing the joke.
Picture via BallinWithBryan on YFrog
.