Golden State Warriors owner Joe Lacob and coach Mark Jackson push back against Monta Ellis trade rumors. Posted by Ben Golliver.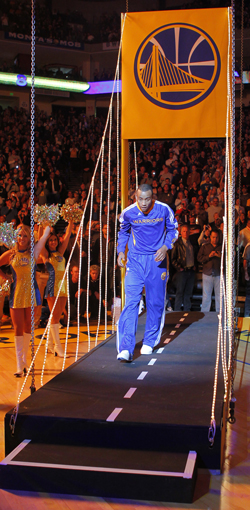 The cat is out of the bag.
CBSSports.com's Ken Berger reported
that the Golden State Warriors are interested in moving guard Monta Ellis, engaging in trade talks with multiple teams.
While he admits that his team has engaged in trade talks this summer, new Warriors owner Joe Lacob
pushed back against the rumors
in an interview with the
San Jose Mercury-News
.
"There's a tremendous amount of speculation in the press, and I can't believe where all this is coming from… because the stories are completely fabricated, by you or whoever. I don't know who's fabricating them.

"They're fabrications, complete and utter. All these teams that supposedly have talked to us. It's not true. It's just not true.

"I'm not saying we haven't had any discussions, we have. But it's nothing like what's being reported."
Lacob went on to say: "We all really like Monta Ellis a lot. We think he's a great player." He then acknowledged that whether there was a player that was a better fit is an open question and predicted that Ellis wouldn't be traded.
Meanwhile,
GoldenStateofMind.com reports
that Mark Jackson,
hired to coach
the Warriors this week, gave a similar message.
"The trades that have been discussed, I do not want to trade Monta Ellis - I want Monta Ellis to be in a Warriors uniform. Now if you told me we're trading Monta Ellis for Dwight Howard, I would hug Monta Ellis, tell him how much I appreciate him, and then make the deal. And I'm sure Monta Ellis would do the same thing: if you were trading me for Magic Johnson, make the trade."
Let's unpack these quotes.
The owner is shocked that the media would speculate when he openly admits to trade talks including his near All-Star caliber player. Okay... Welcome to the NBA.
Both the owner and the coach like the player's game and want the player to stay ... unless he could bring back a better player or a better fit in trade.
The Warriors did what they needed to do here: Show a public support of Ellis in the midst of the rumors. He's on your roster and he's your guy until the trade is approved by the league office. There's always a chance he isn't traded, and you don't want him to feel burned by the process.
Despite that, they didn't do much to dispel the idea that he will be gone next year. Both Jacob and Jackson made it clear that Ellis is eminently tradeable. Indirectly, they poured even more fuel on the fire by publicly aknowledging that his fit is questionable when pressed about his future. A trade makes too much sense not to happen. This one feels like it just comes down to settling on the right price.