BYU guard Jimmer Fredette makes it clear he wants to face Kentucky guard Brandon Knight and UConn guard Kemba Walker in pre-draft workouts.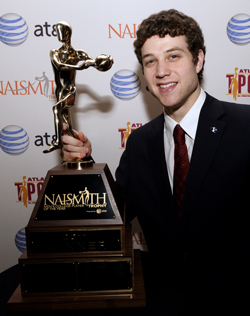 Posted by Ben Golliver.


No one ever accused BYU guard Jimmer Fredette of lacking confidence with the ball in his hands. His pre-draft strategy now looks just as gutsy.
The Salt Lake Tribune reports
that Fredette has decided to do the draft prospect equivalent of calling out his competition. Fredette is making it clear that he will do what it takes to face more highly-touted point guard prospects Kemba Walker, out of UConn, and Brandon Knight, out of Kentucky, in head-to-head pre-draft workouts.
Former Brigham Young guard Jimmer Fredette is scheduled to work out next Wednesday with the Jazz, and he has every intention of sticking to the date. But Fredette is willing to change his plans to accommodate the schedules of Kemba Walker (Connecticut) and Brandon Knight (Kentucky). And whether the two highly touted 2011 NBA Draft prospects will face off against Fredette in Salt Lake City remains to be seen.

With his draft stock rising, Fredette wants to work out against Walker and Knight to prove that he can compete with the point guards, who are expected to be taken early during the first round.
The consensus take on Knight is that he should be a top-7 pick, perhaps going as high as No. 3 by the Utah Jazz. Walker is generally regarded as a top-10 prospect. Fredette, though, is generally seen as a late-lottery to mid-first round pick.
That's why this public challenge is so savvy. Getting a chance to knock off the higher-rated guys is a no-lose proposition for Fredette. If he shows well, maybe a team re-evaluates him, talking them in to taking a bit of a risk on a player with a defined NBA skill -- his shooting -- and questions on the defensive end. If Knight and/or Walker get the best of him, it costs him nothing. He was supposed to get beaten anyway and a vast majority of the workouts are private and not open to the media.
Do Knight or Walker need to respond here? Do they lose face if they don't accept -- and win -- the challenge?
You might think so at first glance, but NBA teams are far more concerned with a prospect's overall evaluation rather than whether he is supposedly ducking someone during workouts. Everyone involved understands the politics at play, and most draft decisions will be made on a system fit basis rather than one guy's ability to outplay another.
Still, great PR move from Fredette's team. If it succeeds, he gets his chance to make his name and change some opinions. If not, he comes across confident and motivated, enjoying a buzz bump that goes with the extra headlines.