Miami Heat forward LeBron James takes criticism from himself and others. Posted by Ben Golliver.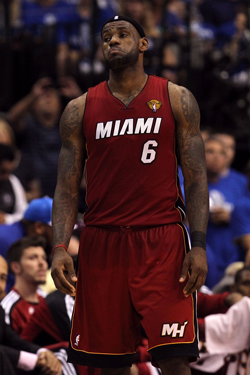 DALLAS – Following Miami Heat forward LeBron James' confounding no-show in Game 4 of the NBA Finals, the question on everyone's mind on Wednesday was simple: What the heck happened?
"[He] checked out," Dallas Mavericks guard DeShawn Stevenson said. Later, he referred to James' detached passivity as "weird."
"I just feel like he wasn't in attack mode," Stevenson added. "I think when he's in attack mode, he can put a lot of pressure on us. I don't know what was happening last night, but me playing against him all these years, that wasn't himself."
James wouldn't bite when asked about Stevenson's comments.
"DeShawn, he's been talking for a long time, since our Washington‑Cleveland days," James said. "I don't let that get to us. Those guys are playing well. We're playing well. It's a three‑game series. Talk is cheap. You have to play the game of basketball. Let the scores and the plays define the game. We don't get caught up in that too much."
While those two exchanged words like they have for years, the rest of the Mavericks were more concerned with pinpointing the reasons for James' lack of assertiveness on offense and talking up his ability as a playmaker.
Mavericks forward Shawn Marion pointed to Heat guard Dwyane Wade's ball dominance late as a major contributing factor in James' struggles.
"They've got to take turns on who handles the ball, who's not handling the ball," Marion said. "[James is] one of their primary ball handlers. When he's not handling the ball, he's not in the play."
Stevenson agreed. "If you have a player like Dwyane Wade or Chris Bosh and they have it going, you tend to defer… You go back and look at film and TV, you can kind of see he's deferring."
The player who came to James' defense more than any other, surprisingly, was Mavericks guard Jason Terry, who questioned James' defense earlier this week. Terry said on Tuesday that James can dominate a game even without scoring and seemed to imply that the criticism of James' Game 4 performance was overkill.
"Pick your poison," Terry said of James as a scorer or as a facilitator. "Him getting a triple double, that will help them. They'll win the game. He almost had one last night, and they almost won the game. LeBron is unique. He's a unique character. If you want to categorize him as just a scorer, you're doing it all wrong. He's like Magic. He's a guy who can affect a game without scoring 30, 40 points. He can get it done on both ends."
Terry did get in one subtle dig, though.
"I don't really care what to expect from him [in Game 5]," Terry said.
In other words, this series won't be decided by James alone.
Stevenson and Marion, despite the trash talking throughout the week and during games -- which Stevenson calls "jaw-jacking" -- did make an outward attempt to distance themselves from the back-and-forth.
"Great players just need a little thing to get it going," Stevenson said. "You don't want to say anything bad or anything, but he's talented enough to use anything in the paper to boost his ego."
"Y'all gonna gas up anything we say regardless," said Marion said just hours after Deadspin.com posted a video of him scoring on James and directing a taunt at him. "I don't get into that talking smack. We're competitors, and we've got respect for each other."
At the eye of the storm, James said he's trying to tune everything out, including the media reaction to the worst game of his playoff career.
"I haven't read anything that was written," James said. "I didn't play well, especially offensively. I know that. I've got to do a better job of helping this team win basketball games, especially late, no matter what it is."
Besides, James said he doesn't need to listen to others criticize him. He is already doing that to himself.
"Eight points is definitely inexcusable for myself," James said. "I hold myself up to a higher standard. I had to do a better job of putting myself in situations where I can benefit myself and my team, no matter how many minutes I'm out on the floor.
"I was hard on myself all last night," James said. "Anytime I feel like I could have played better and the team loses, that's what it's all about. If I have a bad game and we win, I'm hard on myself, but at the end of the day we win the basketball game. That's ultimately what it's all about. When we lose and I don't play well and I feel like I could have did one or two more things to help our team win or get over the hump, you're definitely hard on yourself. That's just me. That's just the make‑up of who I am."
After four games of this NBA Finals, hours of talk, and thousands of words, we couldn't have less of an idea of who James is. His demeanor, his play and his confidence all fluctuate by the day.
We'll see which James shows up to Game 5 on Thursday night.