LeBron James says the Miami Heat are "starting to taste" a title. Posted by Ben Golliver.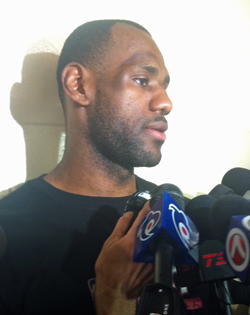 DALLAS -- The Miami Heat are halfway home, up two games to one over the Dallas
Mavericks
in the NBA Finals.
For Heat forward LeBron James, two more wins will mean his first ring and validation for his decision to skip out of Cleveland to join
Dwyane Wade
and
Chris Bosh
.
"Of course we're starting to taste it," James said following Miami's morning shootaround in advance of Tuesday night's Game 4. "But we've got a lot of work. This game tonight is going to be extremely hard, just like Game 3, just like Game 2, just like Game 1."
As that goal gets closer, the noise level seems only to increase.
On Monday, Mavericks guard
Jason Terry
publicly questioned
whether James would be able to continue guarding him late in games and Mavericks guard
DeShawn Stevenson
called
the Heat "actors"
.
James acknowledged that he had heard Terry's comments, but played them off.
"Those guys have a right to say what they want to say," James said. "For me and D-Wade and for our team, we just try to go out and play our game, let our game do the talking. It's not about listening to clips, those guys have the right to say want to say."
Over the weekend
, James made it clear that Mavericks forward
Shawn Marion
couldn't stop him individually on defense, that it would take a team concept. He used a similar line of thinking, but in reverse, to frame Miami's defense on Terry.
"It's no one on one match-up between me and [Terry]," James said. "I don't get involved in that. I just go out there and execute what we need to do.
"It's a team game. Defensively we all have to be in tune. Not only on Jason Terry, but on Dirk, Jason Kidd, Tyson Chandler, Shawn Marion."
James' teammates scoffed at the notion that James, who is playing nearly 44 minutes per game in the postseason, would have trouble keeping up with Terry.
"He's not going to wear down," Wade said.
"You gotta let sleeping dogs lie sometimes," Bosh added. "But maybe [Terry is] trying to get himself going, and maybe that's what he looks for."
But Terry isn't James' only detractor. Some here in Texas have questioned whether James' ring will be cheapened if Wade wins Finals MVP. That scenario would bolster the "James is only a sidekick for hire" argument that developed immediately after James decided to leave Cleveland.
"That's ridiculous," James said. "I'm here to win. That's all it's about. Individual accolades take care of itself. I've got two MVP trophies sitting in my back house in Ohio. I haven't won anything. It's all about a team game, this is the ultimate team prize right here and that's trying to win the NBA championship. I don't really care, I could trade in my last two MVP trophies to have a ring."
James noted that he's been passed over for awards before.
"I would have started a long time ago playing golf or playing tennis if I wanted to be an individual guy. I've always loved team sports... Even though I was the best player on the team my little league coach gave everybody on the team an MVP trophy at the end of the year. That's just how I was brought up."

Despite that strange and vivid flashback to an apparent childhood snub, James was ultimately convincing when he talked about his single-minded focus on the title.
"It's here for us," he said without any trace of unnecessary excitement.