Orlando Magic guard J.J. Redick underwent successful sports hernia surgery. Posted by Ben Golliver.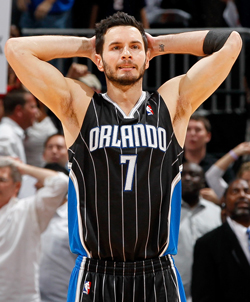 Orlando Magic guard J.J. Redick averaged a career-high 10.1 points per game this season, but he missed more than twenty games during the regular season and was off of his form during the team's first round playoff series loss to the Atlanta
Hawks
.
The Orlando Sentinel reports
on Monday night that Redick's injury-plagued 2011 and statistical dip in the posteason can be attributed to the fact that he was suffering from a sports hernia, which recently required surgery.
Orlando Magic guard J.J. Redick recently underwent successful surgery for a sports hernia injury, a Magic spokesman confirmed to the Orlando Sentinel Monday night.

Redick missed the regular season's final 17 games but returned to play in the Magic's first-round playoff loss to the Hawks.

During the final weeks of the regular season, Redick said he'd feel great one day and be in pain the next, which is a symptom of the sports hernia injury.

But Redick said doctors told him it was not a sports hernia in April, but admitted it was a "gray area."
Recovery timelines following sports hernia surgeries
can vary a lot
, depending on the surgical procedure. One Atlanta-based surgeon
puts a typical recovery timeline
following sports hernia surgery at 4-6 weeks. In other words, it's likely that Redick should be ready to go for the start of the 2011-2012 NBA season, whenever that happens.