Dallas Mavericks guard Jason Terry wonders whether LeBron James can guard him for an entire series. Posted by Ben Golliver.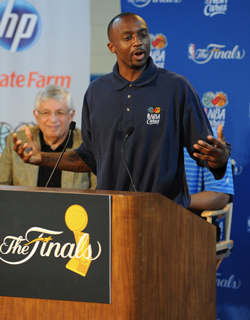 As the intensity of the 2011 NBA Finals continues to ratchet up, so too do the one-liners and trash talk.
First,
on Saturday
, it was Miami
Heat
forward LeBron James stating that Dallas Mavericks forward
Shawn Marion
can't guard him alone. Then, on Sunday, it was
CBSSports.com's Gregg Doyel writing
that James was shrinking in the fourth quarters, prompting a retort from James.
On Monday, the Mavericks fired some shots of their own.
CBSSports.com's Matt Moore reported
that guard
DeShawn Stevenson
called the Heat "actors."
Mavericks guard Jason Terry joined the fray in a major way, calling out Miami's defense as a whole and questioning whether James can hang as well.
ESPNDallas.com quoted
Terry taking a swipe at Miami's team defense.
Terry still seems hesitant to give too much credit to the Heat, even going so far as to say the Portland Trail Blazers were better on defense in the first-round series than Miami has been in the Finals.

"Portland, by far, has the best D," said Terry, who added that the Heat has a "great scheme" that is "working for them thus far this series."
The Palm Beach Post reported that Terry then took a shot at James, wondering whether the All-Star could continue to be effective against him throughout the course of a series.
Terry is shooting just 38.2 percent, and hasn't made a shot when LeBron James has been guarding him in the fourth quarter.

"I'm welcoming the challenge," Terry said of James. "We're going to see if he can do it for seven games."
Neither the raw numbers nor the efficiency numbers offer much support to Terry's claims.

The Mavericks as a team are averaging 88.3 points per game in the Finals, down 3.5 points from their average of 91.8 points per game against the Blazers. Terry is averaging 14.3 points against the Heat, down three full points from his 17.3 points per game average against the Blazers.
During the regular season, the Heat were ranked No. 5 in defensive efficiency while the Blazers were ranked No. 14. In the postseason, Miami has improved to No. 2 while the Blazers ranked No. 15 out of 16 playoff teams.
Chalk this up to desperate false bravado from Terry. If he truly believes Portland played better defense than Miami, he's insane. If he's trying to play mind games, he clearly overplayed his hand to the point that no one can take him seriously.
The only possible saving grace? Some players, Terry included, find motivation in verbalizing criticism of their opponents. This could all just be a complicated way for Terry to get his swagger back. He clearly needs to find it, and soon, or the Mavericks could be facing elimination.