The Golden State Warriors have announced the hiring of Mark Jackson as their next head coach. Posted by Ben Golliver.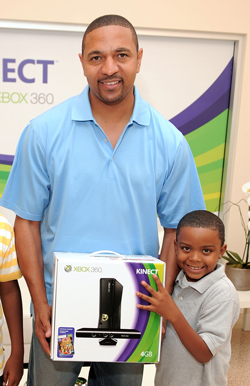 In a press release issued on Monday, the Golden State Warriors announced the hiring of television analyst and former point guard Mark Jackson as their next head coach.
"After an extensive search and a great deal of consideration, we have come to the conclusion that Mark Jackson is the best coach for this team," Warriors general manager Larry Riley said. "He will bring a youthful and fresh approach to our team, and the fact that he enjoyed a stellar playing career, where he served most of that time as the leader of some very successful teams, will prove invaluable in the long run. We were looking for a coach with leadership ability and a strong personality and believe Mark possesses those qualities. He's very well respected in NBA circles, is a consummate professional and his knowledge and background will be an incredible asset for our team and organization."

"We are tremendously excited about the addition of Mark Jackson as our new head coach," Warriors owner Joe Lacob said. "He epitomized leadership as a player in this league for 17 seasons, and we think that characteristic – and many other positive traits – will translate very well into his coaching duties with our young team. He was a leader and a winner both on and off the floor in this league, and we're convinced that he is the right person to guide this team into the future and help us achieve the success that we are striving for as an organization."
Jackson, a first-time head coach at 46 years of age, will assume his new duties as soon as the NBA Finals conclude.
Yahoo! Sports reports
the following contract details: "three years guaranteed, with team option for the fourth. He'll make $6 million-plus [total], league sources say." Jackson takes over for former coach Keith Smart, who was not retained following the 2010-2011 NBA season.
As noted last week, new Warriors owners Joe Lacob and Peter Gruber seemed intent on putting their own stamp on the franchise, and Jackson is certainly a big-name and fairly splashy hire. He should instantly command the respect of his players given his high profile, connections around the league and general basketball intelligence.
The Warriors were said to be seeking a more defensive-oriented approach, and Jackson played for two physical, intimidating teams in the Indiana Pacers and New York Knicks of the 1990s. As with any first-time head coach, it remains to be seen whether Jackson's leadership and toughness on the court transfer to the bench.
Jackson was
floated as a finalist
for the position last week. Other names the Warriors reportedly considered included Dallas
Mavericks
assistant coach Dwane Casey, Boston
Celtics
assistant coach Lawrence Frank and Los Angeles
Lakers
assistant coach Brian Shaw.