Miami Heat forward Chris Bosh delivered the Game 3 win with a clutch jumper in the last minute of regulation. Posted by Ben Golliver.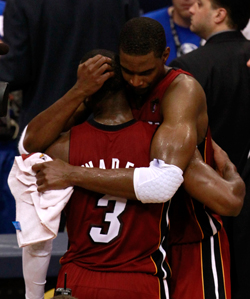 DALLAS -- Miami Heat guard
Dwyane Wade
had it going in Game 3 of the NBA Finals on Sunday night.
If someone was going to deliver a much-needed road victory against the
Mavericks
in Dallas, you would have guessed it would be him. Wade traded baskets all night with Mavericks forward
Dirk Nowitzki
, finishing with 29 points on a collection of forcing dunks, silky lay-ups and clutch threes.
But it wasn't Wade who put the finishing touches on the Mavericks. Instead, it was the other two of Miami's triad -- forwards
LeBron James
and Chris Bosh -- connecting on a gutsy pass and ballsy shot that gave Miami its 88-86 victory.
Bosh, in particular, was an unlikely hero. For the third game in a row, he performed below expectations. Early in Game 3, he took a blow to the eye that sent him to the floor in a heap. With his face swelling over the course of the game, Bosh struggled to find his shot, finishing with 18 points on 18 attempts while grabbing just three rebounds.
But Bosh didn't hesitate on the game's deciding sequence. With 39 seconds left in the fourth quarter and the game tied at 86, James found him wide open in the corner with a behind-the-back flick pass. Bosh caught, gathered and released smoothly, burying the jumper before a Mavericks defender could get out to contest.
"I don't care if he missed 15 in a row, he was wide open and that's his sweet spot," James said. "He was able to knock it down. It's the trust in each other's ability, no matter what the point of the game is at."
Bosh said he expected the pass from James, even if it was a bit risky given the circumstances. "It was the right play. We've been making the right plays. We trust each other. Our guys have been doing a fantastic job of showing that trust, especially in crunch-time situations. This is as big as it gets."
The final shot provided the much-maligned Bosh with a bit of redemption, even if he did his best to remain level afterwards.
"It feels good," Bosh said. "I'm stuck in a place where I don't feel too good, I don't feel too bad. After every game I just look at the game and think about how I can do better and how this team can do better."
Bosh's game-winner came roughly 10 hours after Wade spent Sunday morning after shootaround talking about how he has reached out to Bosh to counsel him though his recent on-court struggles struggles. Wade compared what Bosh is going through against the Mavericks to what he went through against the Chicago
Bulls
in the Eastern Conference Finals and said the two often exchange words of encouragement.
"He seems fine to me," Wade said when asked if there was something wrong with Bosh. "Obviously Chris understands just like in the Chicago series I understood. When you're struggling sometimes you understand that we need your aggressiveness on both ends of the floor to help us win this game. Every minute won't be perfect for us. Just stay in it. Always stay aggressive. Always find a way to help your team win the ballgame.
"Chris has responded any time, all season, any time things have been said about him, or he's played a bad game, or he's said something about himself. He's responded. We have that history on our side and we're not worrying about him responding."
True to Wade's words, Bosh responded once again on Sunday night. It was the biggest response, and biggest shot, of his career.
Here's video of Chris Bosh's game-winning jumper courtesy of YouTube user TopNewMusic2011.