The Dallas Mavericks left Game 3 with a long list of missed opportunities. Posted by Ben Golliver.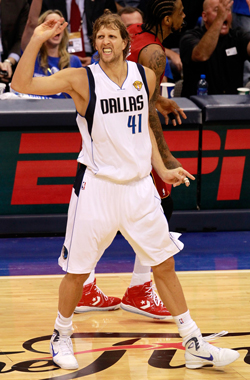 DALLAS -- A narrow miss is still a miss.
The Dallas Mavericks fell to the Miami
Heat
in Game 3 of the 2011 NBA Finals on Sunday night, with a
Dirk Nowitzki
missed jumper
that would have forced overtime at the buzzer.
While the Mavericks were steadfast in asserting that they were more than happy with the look they got with the game on the line, the postgame locker room was full of laments from all corners.
Here's a survey of some of the things the Mavericks were grumbling about afterwards.

Turnovers


Probably the biggest culprit on the evening was Dallas' turnovers. The Mavericks committed 14 turnovers on the night -- four more than the Heat -- and gave up 19 points off of those miscues. The Heat -- particularly
Dwyane Wade
and
LeBron James
-- capitalized in transition off of steals, finishing a number of high-percentage looks in the open court.
"Little things are what cost us tonight," said Mavericks guard
Jason Terry
. "We're a veteran ball club, that's what we pride ourselves in. We didn't get it done tonight. Give them a lot of credit. They took advantage of their opportunities. Every turnover we had basically turned into dunks for them."
Nowitzki said he felt the Mavericks showed improvement in terms of taking care of the ball, but still needed some work.
"We're going to turn the ball over against that team. It's just gonna happen. They're so fast, so long, athletic. They do a good job swarming the ball once we put it down. We're going to turn it over some. I already thought we cut it down from Game 2 to this one, so hopefully in Game 4 we can cut down a couple more and we'll be okay."
The turnovers upset Mavericks forward
Shawn Marion
because allowing easy points in transition undercut Dallas' solid overall defense. "Whenever we make them play halfcourt, it's that much harder for them to score."
Terry echoed that point. "As you've seen, when we set our halfcourt defense, they struggle to score. That's something that we need to do for 48 minutes. We have not done that and that's why we're looking at a 2-1 deficit right now."
Mavericks coach Rick Carlisle agreed, putting a flourish on the point. "It's extremely difficult when you're watching [LeBron] James go down the court and dunk the ball with his head over the rim. That makes it tough to win."
Critical Defensive Breakdown
Miami Heat forward
Chris Bosh
provided the winning points by knocking down an open jumper with 39 seconds left. Nowitzki wasn't happy with how Dallas defended the play.
"We messed up the pick-and-roll in the middle and left James wide open," Nowitzki said. "Tyson [Chandler] left the basket, had to rotate to LeBron, and he kicked it over to Bosh. I was over there with two-on-one, with [Udonis] Haslem and Bosh. Got to give Haslem credit. He set a good pick and Bosh was wide open. I don't really know what happened there in the screen-and-roll, but we definitely messed it up."

Getting Down Early


The Miami Heat closed the first quarter up seven points and used an early third quarter run to push their lead out to double digits. The Mavericks battled back each time, but the effort needed to dig out of the holes proved to be too much in the end.
"
We can't always fall behind," Nowitzki said. "I think we're always reacting. We did in the first quarter. We fell down big. Third quarter we came out slow, fell down big. Obviously it takes a lot of energy for us to fight back."
"One of the things that hurt us was we were digging out of holes all night," Carlisle said. "It's very difficult playing from behind all game."
"It was disappointing to get off to a start the way we did in the first and third quarters," Terry said. "They really came out and were more aggressive on both ends of the floor. And that's what got them the lead. We were playing from behind. You cannot continue to play from behind in the NBA Finals."


Lack Of A Second Scoring Option


Nowitzki led the way and continued to be a force on offense, scoring a game-high 34 points and scoring Dallas' last 12 points of the fourth quarter.
Only two other Mavericks finished in double figures: Jason Terry had 15 points on 13 shots and Shawn Marion had 10 points on 12 shots.
"We didn't give him much help offensively," Terry said. "I take a lot of that on my shoulders. That's two out of three games where, offensively in the fourth quarter, I wasn't able to come up with some big plays or big shots. I'm looking forward to Game 4. We're going to play it like it's Game 7."
Carlisle said that Nowitzki is capable of carrying a heavy load, but did admit that a better balance was needed.
"He knows that he's going to have to carry a certain load. Not just a scoring load, but he's going to have to make plays, he's going to have to facilitate, he's going to have to get guys involved ... I don't think this is anything he doesn't expect. We would like to make it easier for him, and at times we can give him some relief, you know, with some rest and some better balance. But tonight was tough. Tonight was not one of those nights."

Missed Open Shots
The Mavericks entered the Finals needing to win big at the three-point stripe. For the third straight game, Dallas was outshot by the Heat from deep. Dallas shot 8-21 (38.1%) and was held to 40.0 percent shooting from the field overall.
Mavericks reserve guard J.J. Barea continued his poor shooting in the Finals, going 2-for-8 for the game and 1-5 from deep. On the series, Barea is now a combined 5-23 overall.
"I had a lot of open looks I need to knock down," Barea said. "I had a lot of threes. They felt great. Some were long, some were short. They just didn't go down for me. This team needs me to make shots. Everybody needs to make open shots. We kind of struggled with that tonight."
"We're going to have to play more efficiently," Carlisle said. "We're going to have to get the ball in the basket more."