Posted by Matt Moore
So
LeBron James
"shrunk" in the fourth quarter
, supposedly. Let's play a little game of point-counterpoint.
Point:
LeBron James did not take a shot from the 5:26 mark until his attempted game-icing fadeaway with less than eight seconds remaining. He missed.
Counterpoint:
LeBron James had four assists in the fourth quarter, including a behind-the-back, only-LeBron-can-make-that-play whip pass to
Chris Bosh
for a wide-open jumper to win the game.
Point:
James himself said that his big contribution was defense in the fourth-quarter, and Synergy Sports reports that he held the players he defended individually to zero points on three shot attempts.
Counterpoint:
LeBron did not guard
Dirk Nowitzki
, who was the Mavs' entire offense the last half of the fourth.
Point:
James had 17 points, nine assists, three rebounds, and two steals. Not like he was invisible in this game.
Counterpoint:
A. All anyone cares about is the fourth quarter because they have the memory of goldfish. And B. He had four turnovers, took 14 shots to get that 17 points and missed the game winner!
Point:
But it wasn't the game-winner. It was just the game-icer.
Counterpoint:
Yes, and he was wide freaking open, but for some reason, elected to dribble and reset, allowing the defender to catch. Look!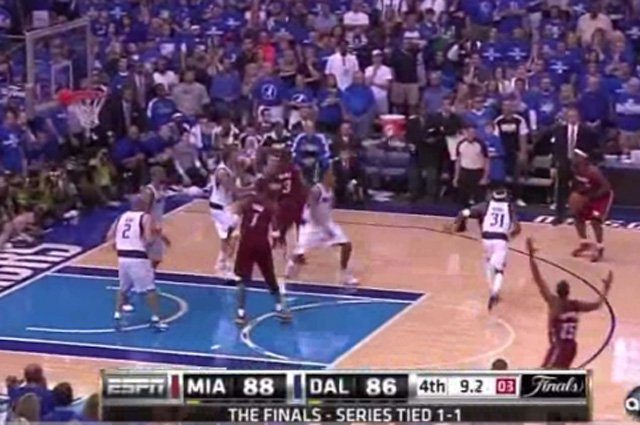 Point:
So he didn't have a great night. He
only
scored 17 points, had nine assists, locked down his opponent, made the game winning assist, behind his freaking back, mind you, for the bucket that, yes, won the game.
Counterpoint:
But can we let that go? Isn't he supposed to be the man? Isn't he supposed to dominate in ways never before seen?
Point:
No. He's supposed to win. Which is what he did. Isn't that the only thing that matters in the traditional narrative?
Counterpoint:
Not for LeBron. Don't ask me why. To answer would take some sort of logic. Tonight's game has somehow turned into a discussion about how a good player ... no, a great player ... no, a superstar player ... OK, probably the best player in this league, had an okay, not-great night while being defended as if the
Mavericks
were locusts and he were honey. That's it.
Point:
Is that fair?
Counterpoint:
Do you realize how much attention is on LeBron? Do you recognize how much he created with his ridiculous behavior and then continues to compound it with ridiculous attitude? He flaunts it every single night, which is why so many writers elect to take aim at him, even on a night where they could focus on Chris Bosh stepping up and responding when he was most needed. They could also point to a vintage performance from
Dwyane Wade
, marvelous defense from good guy and all-around role player
Udonis Haslem
, Dirk missing a game winner for once, the Mavericks' inability to hold on to the ball and all sorts of other really good angles. Everything is weighed through James, though. That's what he's created for himself.
Point:
But even if James has done so, should that be the formula? Is that what we should really be talking about around water coolers and on Twitter tomorrow? How can we honestly criticize certain networks for over-covering LeBron James when we constantly turn the eye to him even when his game doesn't deserve a large share of the attention? James didn't have a bad game, he had a good game. He just didn't have a dominant game. That's not going to happen every night, especially against this defense and especially when he's got other guys who step up for him. Maybe that makes him less of an alpha dog, but it doesn't make him any less of a player and it doesn't make any difference in the 2-1 advantage for the
Heat
.
Counterpoint:
But how do we escape the fact that he's asking to be judged with all these great players and not delivering?
Point:
You mean like he delivered in Game 5 against Chcago or Game 4 against Chicag or Game 3 against Cicago or Game 15 against Boston? Like that? We always want to make the narrative about him because he's the hot button issue. He's what sells, and his arrogance is offensive to us. But the reality is that his arrogance is largely manifest in such a way that it's obvious, and that's his only crime. He's not breaking laws, he's not cheating, he's not hogging the ball. The man had nine assists in an NBA Finals game with a ridiculously slow pace! Did that happen by accident?
LeBron James played a C+ game. Good defense with some questionable shot selection after a hot start. He made the plays he needed to and got the win. That's all. There's no shrinkage, there's no failure, there's no great triumph. He was a big part the Heat won but not the biggest part.
And he's still the biggest story.