The Dallas Mavericks react to Dirk Nowitzki's last-second missed jumper in Game 3 of the NBA Finals against the Miami Heat. Posted by Ben Golliver.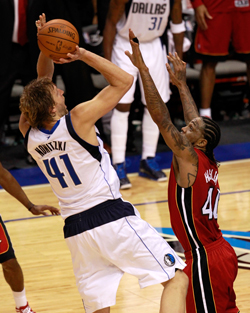 DALLAS – The Dallas Mavericks were inches away from seizing control of the 2011 NBA Finals on Sunday night. Instead, the closing seconds of Game 3 left them without regrets, but also one giant step further from their goal of winning their first title in franchise history.

As in Game 2 on Thursday night, Game 3 came down to the final possession. Trailing the Miami Heat, 88-86, with 4.4 seconds left, the Mavericks called timeout to set up one final look. After battling back from double-digit deficits multiple times, the Mavericks looked to repeat their improbable Game 2 comeback.
"I believed we were going to do it," guard Jason Terry said. "The ball in our hands with four seconds to go? We're either going to win it or we're going to overtime. That's how I feel."
With that confidence coming out of the timeout, point guard Jason Kidd, the team's surest ball-handler, was tasked with inbounding the ball. Dallas' play had two options.
"J. Kidd had me coming off a baseline screen and Dirk [Nowitzki] coming up to the high post," Terry explained. "Dirk flashed open, it was the right decision."
That Kidd inbounded to Nowitzki was no surprise. The Mavericks All-Star forward had a game-high 34 points and looked unstoppable at times. He had also scored his team's last 12 points. The last time a Maverick not named Nowitzki scored a point was a Tyson Chandler putback dunk with nearly seven minutes remaining in the game.
Nowitzki gathered Kidd's pass near the free throw line, dribbled hard twice to his right, spinning back to his left to create space for a jumper. Heat forward Udonis Haslem, alone in single coverage, stayed with him on the perimeter, slipped briefly and then recovered to get both arms up with the clock winding down.
"He's fronting me everywhere, trying to keep the ball out of my hands," Nowitzki said. "He does a good job. He's active, he's quick on his feet."
This was the second consecutive game that Nowitzki found himself at the center of the game-deciding moment. On Thursday night, he beat Heat forward Chris Bosh off the dribble to make a running lay-up to provide Game 2's winning margin. This time, starting at a similar spot on the floor, Nowitzki elected to pull up for a fall-away jumper that would have sent Game 3 to overtime.
"They didn't allow him to get all the way to the basket," Terry said. "But he still got the look he wanted."
The American Airlines Center held its collective breath as Nowitzki, leaning back at a steep angle, uncorked a fall-away.
"[Haslem] stayed down and made me shoot a contested shot, and a shot I can make," Nowitzki said.
Mavericks forward Shawn Marion said he looked on with uncertainty as Nowitzki rose to fire.
"I didn't know [if it was going in], Marion said. "I was hoping it did."
His release was clean but instantly the fall-away jumper looked long, and it was. The shot caught back rim and bounced high in the air as time expired.
"Unfortunately, it didn't go," Nowitzki said.
A contested fall-away jumper at the buzzer comes with a high degree of difficulty. But it also happens to be Nowitzki's specialty.
"We'll take that shot," Terry said. "He makes that … nine times out of 10. This is the one that he didn't."
To a man, the Mavericks shared that sentiment. They weren't happy with much about their Game 3 performance -- chastising themselves for getting down early, failing to take care of the ball and missing open shots -- but they all said they were happy with the endgame.
"Any time you get the ball in Dirk's hands, you like what your opportunities are," Mavericks center Tyson Chandler said. "It's tough that he's in that situation. A lot is going to be said about the last play."
"He loves that stage late," Kidd said. "He wants the ball and he's always come through."
Except on Sunday night, in the much-discussed swing game.

Nowitzki's miss ceded homecourt advantage back to the Heat and left the Mavericks locker room feeling a solemn dejection. This series isn't over, not yet, but Dallas' Sunday morning wide-mouthed swagger gave way to Sunday evening teeth-gritting.
"This definitely was a big game," Nowitzki admitted. "And a very tough loss. Emotional game, fought back, and to fall short at the end is tough. But they need two more."
Here's video of Nowitzki's miss at the buzzer.