Dallas Mavericks center Brendan Haywood is out for Game 3 of the NBA Finals. Posted by Ben Golliver.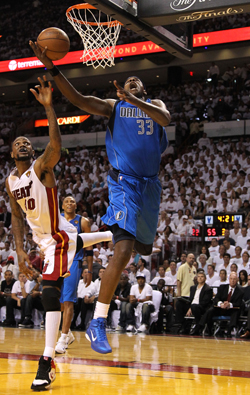 DALLAS -- Dallas Mavericks reserve center Brendan Haywood will not play in Game 3 of the NBA Finals against the Miami
Heat
on Sunday night due to a right hip flexor injury suffered in Thursday's Game 2. Mavericks coach Rick Carlisle told reporters in his pre-game availability that Haywood had been ruled "out" and that reserve guard Rodrigue Beaubois would replace him on Dallas' active list.
"Haywood is out tonight, so he will not play," Carlisle said. "It will change our rotation obviously. He's one of our biggest guys, we all know that. We've got some different scenarios. [Ian] Mahinmi will most likely play some minutes and then there's the possibility that we look at some other lineups that would obviously be smaller. We're going to have to adjust."
Haywood is averaging 3.3 points and 4.3 rebounds during 16.0 minutes per game during the postseason.
"I was hoping for a miracle and it didn't happen," Haywood
told Mavs.com
before Game 3. "Hopefully I'll be ready for Tuesday."
Mahinmi, a 24-year-old center, has played just six minutes in two appearances in the 2011 playoffs. On the season, he made 56 appearances, averaging 3.1 points and 2.1 rebounds in 8.7 minutes per game.
"[Coach Carlisle] told me right after the game to stay ready," Mahinmi told CBSSports.com's Matt Moore before Game 3 on Sunday. "So I've been working to be ready mentally and physically after we got back after the game Thursday. So I've been working on where we're playing pick and roll on [Dwyane] Wade and LeBron [James], and our defensive principles and rebounding. It's not like my team expects me to go out there and score 40 points and get 40 rebounds and block every shot."
Throughout the weekend, the Mavericks maintained that Haywood would be a game-time decision and that he was "questionable" with his hip injury.
On Saturday
, Haywood said he "felt something pull" as he chased a play in transition.
Carlisle reiterated that Haywood's absence makes it even more important that starting center
Tyson Chandler
, who is playing 31.1 minutes per game in the playoffs, stays out of foul trouble.
"Look, we've got to play the game on the ground as much as possible," Carlisle said. "When they get us in the air, that's when we foul. Their game is in the air and our game is on the floor. We're better when we stay on the floor.
"You can't preach too much to a guy like Tyson. 'Be careful, be careful.' Because a lot of his game is his enthusiasm, his aggression, his energy. At this point, 16 or 17 games into the whole playoffs, I've got to believe he's got a pretty good feel for things and he'll have to gauge all of those things. We obviously need him. We need a lot of other guys ready to step up as well."
Beaubois, a 23-year-old guard, appeared in just 28 games this season after dealing with a foot injury and has not made an appearance yet in the playoffs. Beaubois averaged 8.4 points and 2.3 assists in 17.7 minutes per game.
Miami Heat coach Erik Spoelstra said there would be no changes to his active roster. Centers
Zydrunas Ilgauskas
,
Jamaal Magloire
and
Dexter Pittman
will remain inactive.