A snappy LeBron James promises to be in "attack mode" at shootaround on Sunday before Game 3. Posted by Ben Golliver.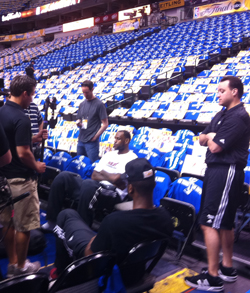 DALLAS -- Seated in the corner of American Airlines Center with his arms crossed, rows of seats covered with t-shirts and signs behind him, Miami
Heat
forward LeBron James made two things clear. First, he didn't want to hear about how important Sunday night's Game 3 was. Second, he knows he needs to do more offensively.
This factoid has spread like wildfire through over the last 48 hours: During the history of the 2-3-2 Finals format, the series has entered Game 3 tied 1-1 11 times. The winner of Game 3 has gone on to become NBA champions all 11 times.
Asked whether that bit of history added an urgency to Sunday night's game, James, speaking flatly and quickly, did his best to downplay it.
"You respect numbers and you respect history," James said. "But Game 3 is it's own. We can't worry about a series or Game 4 or Game 5. We have to worry about tonight. That's the only thing that's important."
Minutes later, a tardy reporter asked James the very same question, attempting to cite the same number.
"LeBron, history says that the winner in this situation ..." the reporter began.
James didn't let him finish the sentence, interrupting with a shake of his head.
"The winner in one-one in Game 3," James interjected. "They already asked me that. Next question."
Another reporter tried to change the subject, asking for James' thoughts on being the villain on the road in front of a hostile
Mavericks
crowd. James decided he didn't want to hear that either.
"I have answered that question before too this year," James said, sounding irritated. "Next question."
The one thing James did want to talk about: Improving his offensive output. James is averaging just 22 points per game in the Finals so far. He has attempted just six free throw attempts combined in the first two games while shooting seven three-pointers in Game 2 alone. Expect those numbers to be different in Game 3, James promised.
"I will be in attack mode tonight," James said. "Six free throws in two games for me is unacceptable ... We have to attack. That's when we're at our best."
Heat coach Erik Spoelstra noted after Saturday's practice that the Heat use its ratio of three-pointers to free throws as an indicator of whether they're being aggressive enough offensively. The goal is to always shoot more free throws than threes. During the regular season, the Heat were 51-16 when they shot as many free throws as threes. When they shot more threes than free throws? They finished 7-8.
During the playoffs, the contrast is even more stark. The Heat are 12-1 when they shoot more free throws than threes. They are 1-3 when they shoot more threes than free throws, including Thursday night's Game 2 loss when the Heat jacked up 30 three-pointers while getting to the line 24 times.
"We can't shoot 30 threes," James said. "We can't shoot more threes than we did free throws. We talk about stats, we're not a good team when we do that. When we outshoot threes than free throws, we're not a good team."
James said Miami has the personnel to get the ratio back on track.
"It's simple," he explained. "We've got three guys that have been in the top 10 their whole career in free throws per game. Myself, [
Chris Bosh
] and [Dwyane] Wade. If we shoot threes and we don't attack we're not successful. We're not getting to the rim, we're not putting pressure on the defense."
Attack mode can't begin until the Heat withstand the immediate energy rush that goes with playing a road game on the road.
"We look at the first two or three minutes," James said. "We understand that this team will come out with a lot of energy. Their fans are going to be looking forward to this. They've been looking forward to this since they played them in 2006. We're looking forward to the challenge."
Even with the series shifting to new surroundings here in Dallas, James stressed that he felt like he knows what to expect on the court.
"It's going to be elecritifying in here. Their home fans are going to give them a lot of energy. After that it's going to be a basketball game. It's going to be the same team we've seen the last two games. A team that offensively plays great, shares the ball and defensively, just tries to be active defensively, makes us take contested jumpers. It's not like they're putting anything in new. We're not putting in anything new at this point. We'll see what happens."
All eyes turn to James to deliver.