Dallas Mavericks center Brendan Haywood will be a gametime decision in Game 3. Posted by EOB staff.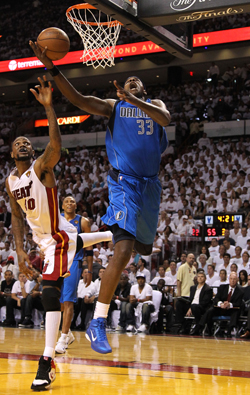 DALLAS -- Dallas Mavericks center Brendan Haywood exited the court abruptly in Game 2 on Thursday night, heading to the locker room with a right hip flexor injury. After sitting out contact portions of Mavericks practice on Saturday, Haywood is said to be a "game-time decision" for Game 3 on Sunday night.
"He was not feeling well when he left the game," Mavericks coach Rick Carlisle said on Saturday. "If he's able to play I'm sure he'll play. If not we'll have to adjust."
"I kind of strained it before I left for Miami," Haywood explained. "When I got down there in Game 2, the wheels fell off a little bit."
Haywood noted that he is feeling much improved from Thursday night, when he attempted to re-enter the game in the fourth quarter. "The other day I couldn't move. In that fourth quarter, I tried to give it a go and I really couldn't move. It's way better today."
The injury was of the non-contact variety, as Haywood said he first felt pain while trailing a play in transition. "It really happened in the first half, on a fast break, trying to chase down the break. I felt something pull in my hip. In the fourth quarter when I tried to come back in I just kept feeling pops and pulls and I knew I couldn't be out there."
While he didn't participate in on-court work, Haywood was present at the team's Saturday morning practice, although he was present, riding on an exercise bike and joking with his teammates. "The bike and a lot of poolwork," Haywood said of his injury maintenance program. "Stuff like that to get it loosened up and get it going, but we didn't want to take any contact."
Haywood has played surprisingly solid minutes for the Mavs so far in The Finals, even going far as hitting his free throws. His value isn't too high as Miami doesn't have a major post presence to defend, but in terms of toughness on the inside and rebounding, he's a solid option behind
Tyson Chandler
. He's averaging 3.3 points and 4.3 rebounds during 16.0 minutes per game during the postseason.
His absence would clearly impact Dallas' tight rotations.
"It's a game-time decision with him," Chandler said. "If he's not able to go, we have some bigs that can fill the roles. Obviously he's needed out there."
Chandler said the Mavericks could plug in reserve center
Ian Mahinmi
, who has played just six minutes total in the postseason, or could opt for a smaller second unit lineup as well should Haywood not be available. "It changes our rotation a little bit," Chandler said. "I don't know what coach will do if he will go with Ian or go with a smaller lineup. They've been playing smaller lineups a lot of the time. If that's the case, we can throw a three, four type of guy out there. If they play big we have Ian Mahinmi. I'm sure he's been waiting and itching for that opportunity."
Dallas' starting center is well aware that Haywood's absence would put more pressure on him to stay out of foul trouble, especially early. "I've been trying to do that anyway," Chandler said. "Just so I can save them for the end of the game. I'm going to be aggressive but I want to play smart out there. Not get ticky-tack fouls."
Haywood also noted that reserve center
Brian Cardinal
is another option. "No matter who he puts in there, that person will be ready," Haywood said. "If you put Brian 'The Custodian' in there. He's going to be ready, he's going to be fouling, hitting his spot-up threes. We can put Ian in there, he's done well for us when he's had to play this season. We can go with a lot of different options."
With his status uncertain for Game 3, Haywood was asked whether he was feeling confident that he would be available. He hesitated. "Uh... I have no idea for tomorrow."