Posted by Royce Young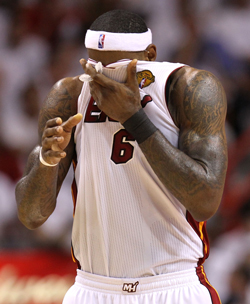 MIAMI -- "I don't want to sit here and be the coach of Oklahoma City, but I seen a lot of things that could have been done better."
That's what
LeBron James
said after the
Thunder
blew a 15-point lead in Game 4 of the Western Conference Finals to the
Mavericks
.
Ahem. If I printed that off, would you like to eat that, LeBron?
Seven minutes left, Miami up 88-73. That's 15 points. Granted, Oklahoma City blew its lead in just five minutes (take that!), but I suppose the point is the same. Well, I don't think you need me to lay it out for you.
Now, I suppose you might be saying, "But Royce, shouldn't you eat your own words? You just wrote about how the Heat are a bunch of super-closers." And you'd be right. I can't decide what's going to taste better -- blue or black ink? But I also said this in that piece:
"They're closing games with impressive style. Now, it's about closing a series. They've got a leg up on the Mavericks 1-0. As goes anything with the Heat, one failure and all this good will flies out the door. One instance of not closing, and finishing poorly, and everyone is ready to write and talk about their problems."
The Heat totally blew this one, no doubt. Their possessions were poor, they didn't play defense and Dirk
totally
Dirk'd them. At the same time, though, they kind of did their thing. They just missed some of the shots that have been dropping. All of that closing stuff is still applicable. It's not like they just forgot how to do it. Like I said, they aren't going to finish every single time.
What's real, though, is that they
have
been finishing in impressive fashion. They did this exact same thing to the
Bulls
in game 5 of the Eastern Finals. This time, however, the Mavericks beat them at their own game.
The lesson here, as always: Winning is hard. Especially when you're playing Dirk.