NBA Commissioner David Stern, Miami Heat owner Micky Arison and Los Angeles Lakers owner Jerry Buss react to the retirement of Shaquille O'Neal. Posted by Ben Golliver.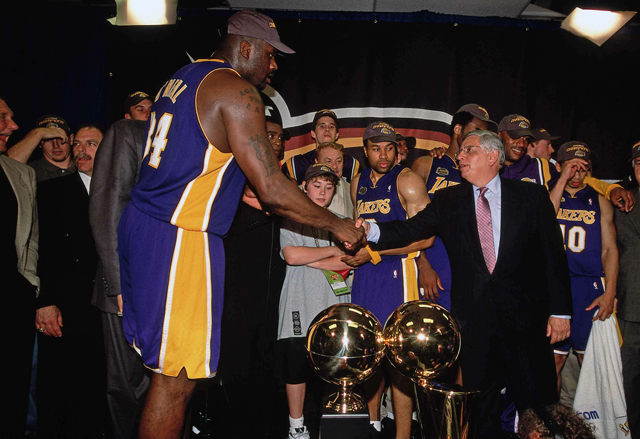 On Wednesday, longtime NBA center Shaquille O'Neal
announced his retirement
. Within hours, the league's top executive and the owners of the two franchises he won titles for were already singing his praises.
CBSSports.com's Ken Bergers reports from Miami that NBA commissioner David Stern credits O'Neal with nothing less than the rise of the sport as a whole. "If you've come of age with the NBA, you haven't known an NBA without Shaq," Stern said. "You've known just an incredible, incredible athlete and competitor, and you've known somebody who, with his sense of humor and his presence, has helped to grow our game tremendously."
Stern said that O'Neal will be remembered not only for his Hall of Fame career but also for his engaging personality. O'Neal's legacy, Stern said, is "that you can be a terrific competitor and you can do it for a very long period of time. And as difficult as it is sometimes, you can retain your sense of humor. Shaq has always maintained his sense of humor."
There will be no replacement for O'Neal, Stern said. "He's a giant. He's physically imposing, he has an imposing smile. In the game, he imposed his will, and he has done it for quite a long time. It's been a great run and we're going to miss him greatly and we hope we can find ways to keep him involved in the game."
Heat owner Micky Arison also sang O'Neal's praises, crediting the center with helping the team win its only title, in 2006. "Obviously, he means a championship," Arison said. "He was great to be around. Loved having him on the team. Had an incredible sense of humor, incredible sense of marketing – both marketing himself and marketing the game. He was a joy to be around and the league is going to miss him."
In a statement released Wednesday evening, Lakers owner Jerry Buss shared Arison's sentiments, saying he would remember O'Neal both for his on-court and off-court contributions. "Shaq had a long and amazing career," Buss said. "A huge impact both on and off the court. His contributions were significant to the entire NBA, but we specifically appreciate what he did with and what he meant to the Lakers during his eight years with us. We have three championships that we wouldn't have won without him, and we will forever be grateful for his significant contributions to those teams."
As for Shaq's next step? Arison suggests the personable O'Neal consider a second career in television broadcasting.

"I definitely think he should take Charles Barkley's job," Arison quipped. Barkley has been an outspoken critic of the Heat, who are on the verge of winning an NBA title, in recent months.