Posted by Royce Young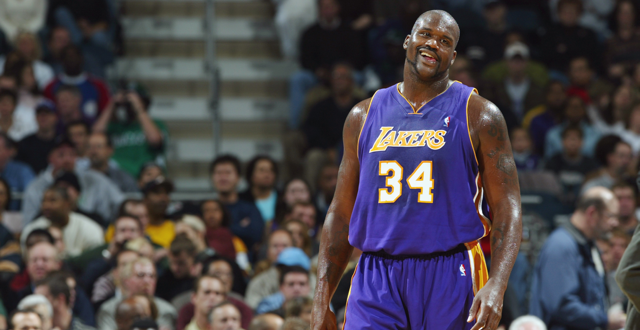 Any time one of the great players announce their retirement, it immediately becomes the task of people like me, fans and everyone else to start deciding where that player fits in the pantheon of their sport. How lasting is their legacy? How great were they really?
And, with
Shaquille O'Neal
hanging up the size 23's after 19 seasons, it must be asked: Where does he stand alongside the all-time big man greats?
Let's look at Shaq's resume: He averaged 23.7 points, 10.9 rebounds and 2.3 blocks per game. He scored a total of 28,596 points which ranks him fifth all-time. He grabbed 13,099 rebounds, which puts him 13th all-time. He won four championships, played in five NBA Finals, won one MVP, three Finals MVPs, three All-Star Game MVPs, played in 15 All-Star games, won two scoring titles, was named to first-team All-NBA eight times and maybe had the greatest personality of any NBA star ever.
Pretty good resume, I'd say. Shaq's career was watered down toward the end as he finished out with a bit of a whimper his last three seasons playing in Phoenix, Cleveland and Boston. That has sort of has made people forget what a truly dominant big man he was. In back to back playoffs, Shaq averaged 30-15. That's pretty much unheard of and yet Shaq did it without much issue.
In terms of pure statistics, Wilt Chamberlain, Bill Russell and Kareem Abdul-Jabbar are better. But comparing eras in basketball is extremely difficult because of the competition players faced, the style of play and the way the game was called. Is Shaq better than Wilt? Hard to say. (Don't ask Scottie Pippen -- he'll say
Dwight Howard
is. And then Kareem will yell at us.)
Shaq: The Legacy
Stats (All-Time List)
Games: 1,207 (23rd)
Minutes: 41,918 (17th)
Points: 28,596 (5th)
Rebounds: 13,099 (12th)
Blocks: 2,732 (7th)
Accomplishments
First overall pick, 1992 Draft
Rookie of the Year, 1992-93
NBA MVP, 1999-00
Four NBA Championships
15-time NBA All-Star
3-time NBA Finals MVP
2-time NBA Scoring Champion
Career Salary: $292,198,327
But there's absolutely no doubt whatsoever that in terms of the most elite big men to ever play, Shaq stands tall right alongside them. I like defining greatness in terms of dominance. And for more than a decade, Shaq
dominated
unlike any center we've seen in the modern era. His game wasn't pretty. He used brute strength and size to overpower smaller defenders. He shot horribly from the free throw line. He never scored outside of the paint. He wasn't so much a basketball player as he was an offensive lineman with nifty feet and a soft touch at the rim.
And no one could stop him. As much as Shaq used raw power to beat opponents which bordered on what was legal, he also took a beating on the block every night. He's probably the most difficult player ever to officiate and nightly he was hacked, grabbed and fouled hard. His weakness was the second easiest shot in basketball -- a wide open look straight on from 15 feet away -- and yet he only sunk free throws 52.7 percent of the time.
Is he better than Wilt, Russell, Kareem or other big men you want to bring into the mix? I don't really know. Contrasting what someone accomplished in 1962 is difficult to do with 2002. What we do know for sure is that Shaq, for a time, was the most physically dominant player in basketball. Gameplanning for him was impossible. Figuring out any way to stop or slow him down didn't happen. He got what he wanted, when he wanted.
Rank all you want. If someone said they were going to hit me in the face with a claw hammer if I didn't, I'd probably put Shaq third behind Russell and Chamberlain, but that's just because that seems to be the consensus. Though, maybe we'll reconsider once we get away from Shaq's career a bit, and let it all sink in. Maybe time will help us forget about the sad ending in Cleveland and Boston.
It's unlikely, though, and here's why: There are some qualms with Shaq's career. It does feel like something was missing. That maybe Shaq could've actually been better than he was. There were so many outside distractions -- acting, rapping, police work, making up nicknames, pop culture icon, reality TV star -- that Shaq probably sacrificed a little greatness and a little of his on-court legacy for all of that.
Would he have it any other way? Probably not. He had the career he wanted, won titles, dominated games and had a ton of fun doing it. He probably had an opportunity to win even more and really cement his place at, maybe the top of any list, but he picked another path. And I don't think we should blame him for it.
Shaq certainly had a career that will stand the test of time. He was bigger than the game. Nobody owned the league, media, fans and everything else quite like Shaq. He called himself Superman and there's no doubt, he played like him too.
He's not the greatest center ever, but he certainly was great. He wasn't the Most Dominant Ever like he dubbed himself, but dominate, he did. All of that stuff never seemed all that important to Shaq, which is what made him so relatable. He wasn't the near psychotic killing machine like Michael Jordan. He was more
Magic
Johnson -- fun, crazy, outgoing and still very awesome at basketball.