Coach John Kuester will reportedly not be back as Detroit Pistons head coach, but multiple reports indicate no decision has been made yet. Posted by Ben Golliver.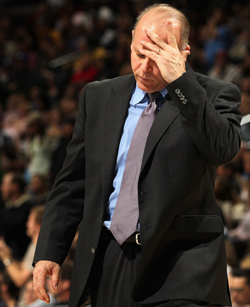 After a tumultuous season of player protests, public bickering, constant rotation changes and another trip to the NBA Draft Lottery, the Detroit Pistons and head coach John Kuester have reportedly parted ways.
ESPN.com reports
that Kuester is headed out in Motown, as has been
anticipated for months
.
Detroit head coach John Kuester will not be returning to the Pistons, according to sources. It is presumed that president Joe Dumars and his staff will be returning, but there has been no definitive indication of that yet, sources said.

Hired in 2009 to be the franchise's 27th head coach, Kuester has posted a 57-107 mark in his two years in Detroit.
A source told CBSSports.com's Ken Berger on Sunday that Kuester "had not been let go and that no decisions will be made until Tom Gores officially takes over." Gores is the team's new owner, having agreed to purchase the team from Karen Davidson.
Update
: A source tells CBSSports.com's Ken Berger on Sunday evening that "Kuester has not resigned, nor has he indicated to Pistons management that he's leaving, according to one source." Also, Berger notes, "according to another source, Mike Brown would like Kuester to join his staff but is waiting for his situation with the Pistons to be resolved."
MLive.com also reported
shortly thereafter that a split had not yet taken place.
Pistons source: Nothing has been decided yet on John Kuester. Sounds to me like someone jumped the gun. It appears that no change is imminent with Kuester, from what I'm hearing.
Another denial came in
from the Detroit News
.
Looks like ESPN is jumping the gun on Kuester. His status hasn't been decided yet, according to multiple team sources.
Yet another denial came in
from SI.com
.
John Kuester has NOT been fired by the Pistons, high ranking source tells SI. No decision has been made as of yet.
Finally,
the Detroit Free Press weighed
in with its denial.
Nothing has changed with Q. Everybody has said he's unlikely to return. Q just told me he hasn't been told anything. Source just told me no decision on Q until Tom Gores takes over. But the writing is on the wall.
These reports are not necessarily contradictory. Kuester could have decided that he will to resign or the sides could have agreed that a split will eventually happen, as has been rumored for months given his inability to establish authority over.
Worth noting:
The Los Angeles Times reported
on Friday that Kuester could join the staff of new
Lakers
head coach Mike Brown.
Kuester's job with the Pistons is tenuous because of the revolt from his players during the past season when five of them skipped a practice. He remains under contract, but if Kuester is let go, Brown wants him coaching with the Lakers.
Kuester was an assistant on Brown's staff in Cleveland before he was hired to lead the Pistons.
More on this story as it develops.