Scottie Pippen says that
LeBron James
may be the greatest player to ever play the game.
Posted by Matt Moore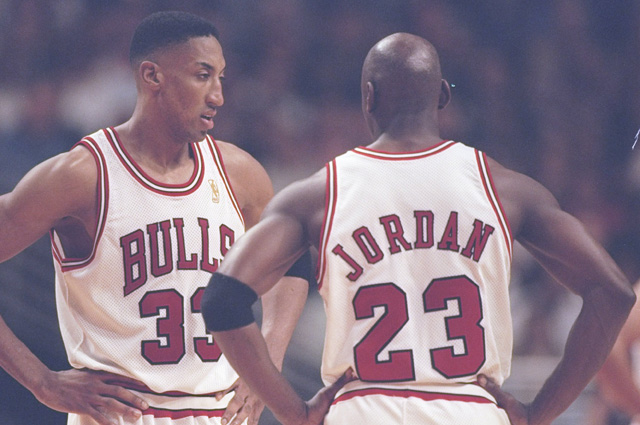 Bulls
fans are having a bad morning. They lost the Conference Finals Thursday night. They blew a double-digit lead late as LeBron James flew by them like they were standing still. And this morning, Scottie Pippen, Bulls Hall of Famer, Jordan's running mate, said on ESPN Radio Friday morning that LeBron James, the most hated man in Bullsland?
Pippen says he's the probably the greatest player of all time.
"Michael Jordan is probably the greatest scorer to play the game," Pippen said. "But I may go as far as to say LeBron James may be the greatest player to ever play the game because he is so potent offensively that not only can he score at will but he keeps everybody involved. You have to be on your Ps and Qs on defense. No guy on the basketball court is not a threat to score with LeBron James out there. Not only will LeBron dominate from the offensive end as well, but he's also doing it on the defensive end which really makes him the complete package. He's able to get in those passing lanes, shoot those gaps and create transition opportunities where he is pretty much unstoppable."
via
Pippen: "MJ Best Scorer, 'Bron Best Player … To Ever Play The Game" « NBA.com | Hang Time Blog
.
Whoa, there, Scottie, let's not go nuts, here.
The problem here is the word "is." If Scottie had just thrown in a "could end up as" or a "has a chance to be" this isn't an issue. Because everyone recognizes how great LeBron's game is. But the results haven't been there.
Fair or not, and you can make the case it's not but it doesn't change anything, we judge athletes on results more than performance. More specifically, we tier players based on performance, then judge them based on results. An example: everyone would agree LeBron James is a greater player than
Robert Horry
, despite Horry's impressive ring total, because Horry was never "the man" on a team. Jordan, however, is considered a greater player because he won six rings while being the man. And was totally unstoppable in nearly every situation. Stunningly, this is an area where both people who love and hate stats can agree. The numbers say Jordan is nearly untouchable.
And the fact remains, Jordan did win those titles. He is that icon. There's a massive sense of overinflation of Jordan's accomplishments because so many writers and people in the target audience grew up in the era and Jordan was a cultural phenomenon as well as a basketball one. If you take all that away? He's still the greatest of all time. That's how big the gap is. There are other players you'd probably consider before LeBron as well. Russell. Chamberlain.
Magic
. Bird. Olajuwon. He's already a top ten player, but the best? No chance. Not yet.
However, Pippen does have one point. What player has made as much of an impact on both sides of the ball, and was as insolvable as LeBron? He guarded the MVP point guard into a nightmare series. He rained threes to get his team back from down 11. He's a two-time MVP. He's on the verge of winning a ring, and should he do so, there's a great chance he can win several more. Win three, why can't he win six? Then the conversation starts.
Then, not now.
For now, we have to respect history, even if Scottie's too close to the trees to see the forest. This isn't about LeBron teaming up with other great players or any sort of hypocritical, hyper-critical nonsense. It's just about the results. And until James possesses those results, Jordan remains the GOAT.
(One last note: This is actually the best thing Pippen could have done for Chicago. Instead of focusing on how their team choked away leads multiple times in this series, how the MVP fell apart and failed them in the biggest moments, how all their regular season success resulted in a gentleman's sweep to the hated
Heat
, they can all rally around the greatest player in city history, remember the good times, and feel good about themselves again. This is the Pippen media version of Batman taking the blame for Harvey Dent in "The Dark Knight.")