Los Angeles Lakers vice president Jim Buss believes center Andrew Bynum is untradeable. Posted by Ben Golliver.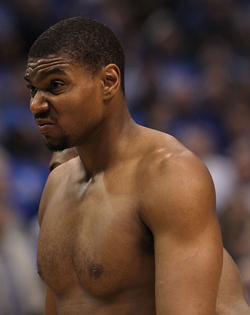 The Los Angeles Lakers have selected Mike Brown to be
their next head coach
, guard
Kobe Bryant
and his teammates
weren't consulted
and the process is said to have been led by Lakers vice president Jim Buss, the son of owner Jerry Buss.
Whenver there's change at a key position like head coach, the waters start to feel a bit choppy. That goes double when there's a new voice taking on an enhanced role in the front office. While the Lakers will begin getting acquainted with Brown, Lakers fans are left to study up on Jim Buss, who until now hasn't seemed like a major player in the organization.
Yahoo! Sports reports
that we do know one thing about him: he remains deadset on holding onto Lakers center Andrew Bynum.
Now, Jim Buss has two guys in the franchise: Brown and Andrew Bynum. In fact, Buss has made something clear within the Lakers, sources say: Bynum is untouchable in trade talks.

For now, this could include a sign-and-deal for the Orlando Magic's Dwight Howard. The Lakers are Howard's preference, but they don't have salary cap space to sign him. They'll need a deal that includes Bynum to the Magic, but there are those seriously doubting Jim Buss' desire to make such a trade. After all, Bynum was Jim Buss' discovery, his pet project and believes Bynum will ultimately resonate as the son's personal Lakers legacy.

Buss' loyalty will be Bynum and Brown. These are his guys now.
There was an identical refrain during rumored trade talks with the Denver
Nuggets
prior to the deadline. There was word of a Bynum-for-Carmelo Anthony trade for quite some time before Anthony was eventually shipped to the New York
Knicks
. That deal reportedly never got off the ground because of Jim Buss' loyalty to Bynum.
Is this unmitigated loyalty misplaced? Yes.
Personal ties should never drive roster decisions. Sure, they can be a factor -- even a major factor -- but in weighing options but they never should be a deal-breaker.
In Bynum, the Lakers have arguably the second best center in the league. They also have a big man, locked into a long-term contract, who is ready, willing and able to shoulder more of the offensive burden. He says the right things about playing defense and protects the rim well. He's a mismatch problem for the vast, vast majority of NBA teams.
Of course, the negatives are clear too: He's a hothead, as evidenced by his evisceration of J.J. Barea in the playoffs. He's a bit moody and still a touch immature. And, most importantly, he has a long history of injury issues.
Bynum played very well down the stretch of this season and his salary going foward -- $14.9 million next season and $16.1 million in 2012-2013 -- is fair given the rarity of his skills and size.
Should that make him untradeable? Especially if Howard -- who has better numbers and a solid track record of winning -- is available? No way.