The Lakers' front office is taking on a new direction under Jerry Buss' son, Jim Buss. Changes are happening all over the NBA, and the Lakers are no exception. Will a new course of action lead to the old standard of championships for the purple and gold? Posted by Matt Moore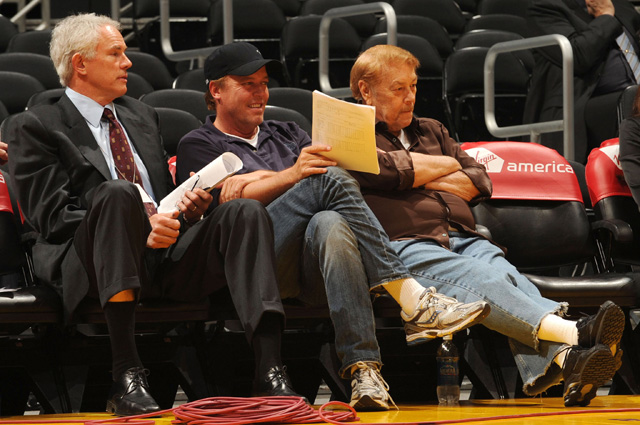 The
Celtics
and Lakers? Gone from the secound round with only a single win between them. The
Spurs
? Closed out in the first round by Memphis (Memphis!). Derrick Rose won the MVP at 22 years of age,
Kevin Durant
was the scoring champion and both of them made the Conference Finals. Those Conference Finals? They featured exactly zero of the following:
Ray Allen
,
Paul Pierce
,
Kevin Garnett
,
Shaquille O'Neal
,
Kobe Bryant
,
Tim Duncan
,
Manu Ginobili
,
Pau Gasol
, or
Steve Nash
(or
Dwight Howard
,
Chris Paul
, or
Carmelo Anthony
, but don't interupt me, I'm rolling).
Things are changing in the NBA. There's a lockout on the horizon which will dramatically shift the course of how business is done in the league, new superpowers are taking shape as an era of collaborative superstardom takes hold, and
LeBron James
is clutch. It's a terrifying new world out there.
And right in line with those changes is what we've seen from the Los Angeles Lakers both in their dismal collapse to end their chance at a three-peat and in their decision to hire Mike Brown as their new head coach after Phil Jackson rode off into the peyote sunset.
Let's begin with a story reviewing the coaching search process five days ago on May 19th in the
Los Angeles Times
:
The Lakers were once the managerial gold standard, with Jerry Buss' vision and Jerry West as in-house legend and basketball boss of bosses.

Now Buss defers largely to his son Jim, who, let's hope, checks with West's protege, Kupchak.

Not surprisingly, given Jim's inclinations — remember bringing Rudy Tomjanovich out of retirement as the game's highest-paid coach in 2004? — this started as a star search.
via
Coach selection, and the Lakers' future, is in owners' hands - Los Angeles Times
.
Where once Jerry Buss, the most influential owner of the past thirty plus years, handled the mechanics of keeping the Lakers high-powered star factory pumping out championship gold for Buss to enjoy while he wrapped his arms around his younger friends, now the son is trying to establish himself as "the man in charge." The younger Buss has been the key decision maker for a while, but this represents more than just a "business as usual" handling of the Lakers' day-to-day operations or short-term evaluations. The change here is not just one of replacing a Hall of Fame coach with a respected, though resume-questionable coach. It's a move away in a systemic approach.
Consider that Brian Shaw is right there. A nice, safe continuation of the success the Lakers have enjoyed over the past four seasons. The Triangle offense, the familiarity with the players, the cool comfort of continuity. And Jim Buss completely swerved away from all of that. Rick Adelman was right there. The coach with the best resume, the best track record, a similar offensive approach as the Lakers have been operating under. A star-worthy coach for a franchise that has always accepted nothing but the best. And Jim Buss and Kupchak elected to pass over the best coach on the market.
The reasons will be myriad as to why this was a good hire, but nothing as forthright and easy to point to as defense. Dallas shot the lights out to put the Lakers underground, so the tactical response is to bring in a defensive general to fortify the paint. The offense will sort itself out, right? Except this isn't a team with great natural chemistry and ball movement offensively. It never has been. Kobe Bryant has always been the tiger trying to bust out of the Triangle's cage. Yes, Pau Gasol operated well in the corner system but how will he respond to having to freelance more and make more decisions with increased pressure after this season's epic collapse. Is a looser construct really what's going to be best for
Ron Artest
, he who Staples screams "No!" whenever he pauses to consider a three? And at its core, do you want Bryant, who continues to show signs of the inevitable downslide of aging and a stubborn refusal to adapt his game, or his field goal attempts, accordingly, free to do as he pleases?
But then, Bryant in particular is of note in this story. Sam Amick of Sports Illustrated reported on Wednesday:
The source close to the Lakers told SI.com that Kobe Bryant was "surprised" by the news of the team's interest in Brown late Tuesday, and that he was not a part of the decision-making process. Bryant had been a staunch supporter of Lakers assistant Brian Shaw for the position.
via Lakers name Mike Brown new head coach - Sam Amick - SI.com.

The star, the Hall of Famer, the next statue, and he's not consulted on the coach that will be in charge for his final years, presumably? That's a deviation from the standard, and a slap in the face. The Lakers shouldn't require Kobe Bryant's permission, approval, or support to hire Mike Brown. But to not even factor that into the decision making?

There's a clear step being made here by Jim Buss to head away from the last few years which saw Jackson, while dating Buss' sister Jeanie, running the show from high atop the special chair. Not hiring Shaw, not consulting Bryant, signing Brown to a four-year deal which guarantees Brown will be around at least through two more years (anything more is too much salary to surrender in dead money in the event of a firing). There's a very clear indication that Jim Buss is trying to make a statement of his own and show that his vision is just as good, if different from his father's.

You'd almost wonder if he hasn't been incepted, or something, with this series of decisions.

Is Mike Brown a good coach? Absolutely. In Atlanta (yes, this is assuming a coach who had the Bulls offer him everything but Derrick Rose in the way of a chance to win is fired eventually), he would have been great. In Houston, he would have taken a talented veteran group and overachieved with defense. In Golden State, even, he likely would have given them the defensive personality to make the playoffs. His defensive chops cannot be questioned. But this is a coach who could not contain LeBron James. Granted, no one can, but that was a player with no real reason to believe he knew better. What's going to happen when Brown walks into a wary room of veterans who have won two championships with arguably the greatest coach of all time and who now are being told to listen to the guy who "couldn't win with LeBron" as ridiculous as that accusation is?

The Lakers are moving forward. There's new management at the top. There's new coaching on the sideline. But the roster remains the same, a versatile, talented, if boneheaded group of stars trying to fit together in the greatest reality show on Earth. And Mike Brown just moved into Crazy Town. We'll see if all this change means a move towards the tradition the Lakers value most: championships.