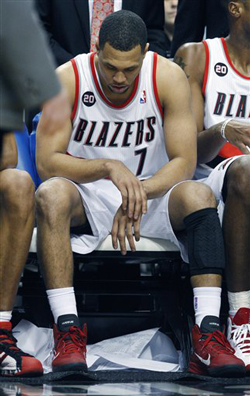 Posted by Royce Young
Two days ago, the seemingly minor story about the Blazers front office pushing for a suspension of
Brandon Roy
wasn't nearly as interesting. Because two days ago, Rich Cho was still the general manager of the Portland
Trail Blazers
.
Via The Oregonian,
Cho wanted to suspend Roy for public comments he made about playing time. Roy said after a game he played only eight minutes, "There was a point in the first half, and I was thinking 'You better not cry.' I mean, serious. I mean, there was a moment where I felt really sorry for myself. Then I was like, nah, you can't be sorry for yourself. I'm a grown man, but there was a moment there that I felt sorry for myself. Especially when I think I can still help."
The comments look harmless enough to me. But Cho didn't take them that way. Cho wanted to suspend Roy. Earlier in the season Cho had warned the outspoken Roy about making his case for more time through the media after he indicated he and teammate
Andre Miller
couldn't co-exist.
Cho must've seen these comments as the last straw. After discussions with Nate McMillan and owner Paul Allen, the decision was that Roy would apologize for his comments to the team.
Which he did.
Roy responded by scoring 16 points in Game 3 and then 18 points in an all-time Game 4 which featured a crazy 23-point comeback from Portland. While Cho wanted to send a message I guess, Roy had a huge hand in extending the series to six games.
Here's the interesting part of the story though, especially because again, this is two days before Cho and the Blazers parted ways.
Pushing for a suspension was a bold play by Cho. Especially given that the last general manager, Kevin Pritchard, lost his job for thinking on his own. And even though I stone-cold disagree with the idea of suspending Roy for telling the world how he felt, I appreciate that Cho is trying to assert himself in a place that mostly deters it.

The well-placed source said Cho was talked off his initial position by McMillan and owner Paul Allen, who were in agreement that a suspension was neither warranted, nor a welcome distraction for a team down 0-2 to the Mavericks.

Being outranked by Allen is one thing. But the larger issue is whether the need for Allen to step in, and Roy's subsequent performance, spells trouble for Cho in the big bossman's eyes moving forward.
It's speculation, but the coincidence is hard to ignore. Cho might not have been doomed when he pushed for a suspension, but with the controlling manner the Blazers ownership runs things, I'm sure it didn't help.