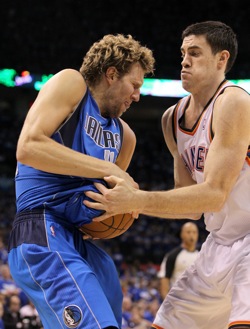 Posted by Royce Young
OKLAHOMA CITY -- Look at the box score from Saturday's
Thunder
-Mavericks Game 3 in Oklahoma City. Notice anything funny? No, not that the Thunder shot just 1-17 from 3. No, not that
Dirk Nowitzki
had as many turnovers as made baskets (seven).
What's striking is that Dirk only took one -- count it,
one
-- free throw. And it came via a technical foul no less. This after he took 34 in the first two games, including a historic 24-24 from the stripe in Game 1.
There's no doubt that
Nick Collison
's defense on Dirk has been almost inspiring. Collison has earned a reputation in the postseason for being one of the best defensive big men stoppers in the game with the way he covered
Zach Randolph
and now how he's made life tough on Dirk. But one of the strategies Collison employs is being physical with Dirk, both on and off the ball.
Mavs coach Rick Carlisle was impressed with Collison's defense saying he's one of the "best post defenders in basketball," but added a caveat to it.
"Now, I don't know in terms of legal limits. I believe the line may have been crossed at times, and if so, I mean, the league will see that."
In other words, "He's fouling my guy! But I'm also trying to choose my words carefully as to not get a fine."
Dirk didn't really complain about it though.
"I obviously didn't get a lot of whistles going to the basket," Nowitzki said. "So I had to go with the one or two dribbles and up."
On the floor though, Dirk did his fair share though. After a hard drive to the basket where he obviously thought there was contact, Dirk turned to official Bob Delaney and informed him that the legal limits were indeed crossed on that particular play.
It's always kind of funny how things change with different officiating crews. In Game 1, Joey Crawford and his group saw almost everything as a foul. It was called fairly on both ends as both teams got the benefit of a touchy whistle. Game 2, a bit more was allowed. Game 3, Dirk got roughed up a bit. Collison for the most part played within the legal limits I'd say, doing a good job of using his body and not his hands to defend Dirk. Twice Collison anticipated Dirk putting the ball on the floor and forced a jump ball. No foul, no line-crossing there. Just great defense.
At the same time, you typically see stars such as Dirk get calls in most of those situations though. I think it's a credit to Game 3's crew for not feeling an obligation to just reward Dirk because he's Dirk.
The fact Dirk went just 7-21 from the floor and turned it over seven times has a lot less to do with the officiating and lot more to do with Collison. But within that, Collison was enabled by being allowed to push some boundaries. Carlisle may be right. The Thunder's approach may have crossed a line. But it's pretty simple: If they don't call it, then it wasn't a foul.