Los Angeles Lakers big man Pau Gasol says he "collapsed" during the NBA playoffs. Posted by Ben Golliver.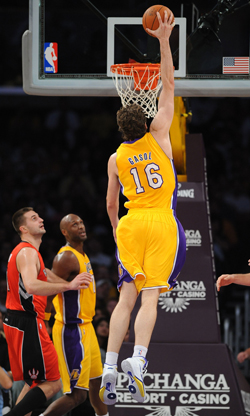 What a month for Los Angeles Lakers big man Pau Gasol.
On the court, Gasol averaged a career-low 13.1 points per game in this year's playoffs and the Lakers were swept out of the second round by the Dallas
Mavericks
. Off the court, vicious rumors involving his personal life swirled around the team, to the point where guard
Shannon Brown
issued a public denial
of a sexual relationship with Gasol's girlfriend.
In
an interview with Spanish website Marca
, translated by
HoopsHype.com
, Gasol admits that the situations overwhelmed him.
"It wasn't about self-esteem. It wasn't about confidence. I collapsed. I was exhausted a little bit too. It hasn't been a lack of confidence."

"A journalist from here told me that I'm an easy target. I'm polite, I'm a foreigner and I treat people with respect. Because I'm polite and a good person I'm an easy target. The lies about my personal life have affected me."
That's a pretty damning, soul-searching admission by Gasol, who should know by now, after spending four seasons in Los Angeles, that the paparazzi and society's obsession with celebrity are a part of the job description for every Laker.
To his credit, Gasol doesn't duck from the
Heat
, accepting full responsibility for his off play.
"My goal is to help my team to win and since I haven't done that, I have failed."
Injuries and physical struggles can be frustrating for fans, but there's nothing worse than when a key player battles mental struggles, whether it's doubt or pure distraction. How are Lakers fans supposed to interpret these comments? What's the proper reaction? Rage? Compassion? Demand that he be traded?
We can be sure Gasol will bounce back in the future -- he couldn't play much worse than he did in the playoffs, at least not until he's significantly older -- but his no-show in the playoffs, and this explanation, won't quickly be forgotten. If you're
Kobe Bryant
, entering the final extended chapter of your career, are you able to give Gasol a pass? If you're the new Lakers coach, whoever that might be, do you have any idea how much you can count on Gasol in the future?
The easy explanation: a collapse was inevitable given three straight grueling trips to the NBA Finals and extra time away from the game should help revitalize both body and mind. We won't know if that's the correct explanation until the full strobe light of pressure is shining on Gasol again. In the meantime, hopefully he gets his house in order.