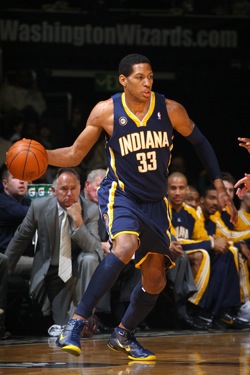 Posted by Royce Young
The word is that the
Timberwolves
are shopping the No. 2 overall pick around. I already sort of covered this, but right now, David Kahn doesn't seem to have a lot of need for another young project player but is instead looking to acquire some veteran talent. So with that knowledge out there, teams are calling and talking.
One that's surfaced? The
Pacers
.
According to a tweet from Sam Amico of Fox Sports,
the Pacers are "making a seriously play" for the No. 2 pick. By "serious," the word is that
Danny Granger
is part of a proposed deal along with
Ricky Rubio
and
Michael Beasley
.
In other words, wow, that would be a pretty major deal.
It's all talk at this point, but maybe there's a bit of fire to go with this smoke. Granger has been rumored to be on and off the trade block in Indiana a couple times in the past year and with Derrick Williams from Arizona being the likely prize at No. 2, Larry Bird is willing to trade his franchise player for a shot at a new one.
Or maybe Enes Kanter who has the look of a solid starting power forward, something the Pacers have been hunting for a while especially since unloading
Troy Murphy
. Yes, seriously.
I can't say that I quite understand why Rubio and Beasley were also included in the deal, but hey, it's David Kahn and I'm not going to start posing questions that have no answers.