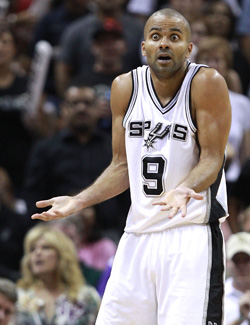 Tony Parker says Spurs "can no longer say" they are playing for a title. Posted by Matt Moore
The Spurs certainly looked throughout the regular season as if they'd still be playing right now. They looked like they had one more glorious run left in them, a last chance to face down the
Lakers
, overcome and win an NBA title to send their own version of the Big 3 (which has been around a lot longer than the others) off into the sunset in style. It was perfect. And everything came apart, thanks to the very thing that won them so many titles, defense. They couldn't stop the
Grizzlies
and had to rely on their offense to create. It simply wasn't there.
The
Celtics
and Lakers have both pledged that this season isn't the end for them, even though they, like the Spurs, are at home watching younger, hungrier teams compete for the gold. Championship caliber experienced teams don't implode, really, they have to be dragged and pried apart with crowbars and heavy equipment. Except that Tony Parker, in an interview on the FIBA website where he says he will put more and wear tear on his wheels playing for France his summer, went ahead and made it clear he thinks the window is closed. From FIBA.com:
Parker says that age has finally caught up with the Spurs.

"At the start of the season I said this was our last chance," he said.

"Tim and Gino (Manu Ginobili) are getting old. It's going to be tough to regenerate ourselves.

"We will always have a good team but we can no longer say that we're playing for a championship."
via
FRA – Parker: "Lockout or no lockout, I will play for France" | FIBA.COM
.
Whether that's a demand on ownership to rebuild the roster to make them contenders or defeatism remains to be seen. But for a guy who the Spurs just gave a huge extension, to, it's got to be concerning to have him shut the door on title contention while
Tim Duncan
's NBA career is still breathing. An old roster can still win a title, it just has to be surrounded by the right pieces.
Richard Jefferson
,
DeJuan Blair
, and
Matt Bonner
weren't the right pieces. But no matter how bleak the situation, the star point guard, the youngest of your team's Big 3 shouldn't be admitting the run is over in the press.
I'm sure Coach Popovich is just going to think this kind of attitude is swell.
(HT S
BNation.com
)