Esquire Magazine writer who is writing a book on LeBron James' immoral departure from Cleveland makes comment nicknaming Dirk Nowitzki after German-used pesticed employed in the Holocaust. Posted by Matt Moore
Scott Raab is a columnist for
Esquire Magazine
(and author of "
Real Hollywood Celebrities
"), who made a name for himself among sports fans following "The Decision" by unloading a barrage of unrestrained vitriol towards James and his decision to abandon the
Cavaliers
and the city of Cleveland. He subsequently took to constantly unloading against James on Twitter, frequently referring to James as the "Whore of Akron," the name of
his forthcoming book
from Harper-Collins
, subtle poetry that it is. At this point, Raab's career is most notable in relation to his opinion of LeBron (who is "going to hell" according to Raab). But on Tuesday night, Raab elected to comment on another NBA superstar and in doing so, made a comment as inflammatory as anything
Kobe Bryant
or LeBron James have said in the last few weeks.
Posted on Twitter
during Dirk Nowitzki's 48-point performance Tuesday night: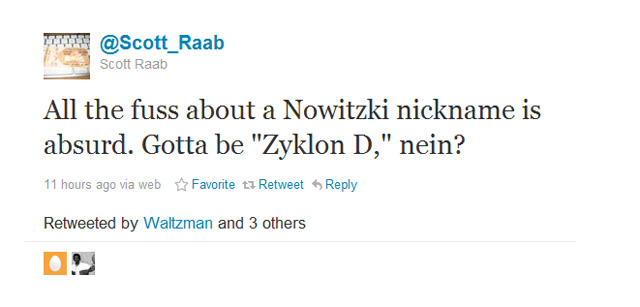 That's a reference to "
Zyklon B
," a cyanide-based pesicide used by the Nazis in World War II in the mass murder of the Holocaust. It's a joke about a German, referencing the German mass-murder of over six million people, in large part using the chemical punned upon.
Raab sent out an apology after the
comment gained attention on Twitter
, and referencing
an article he wrote
on J
ohn Demjanjuk
, "the last Nazi" as Raab calls him. Raab, who is Jewish, wrote "Apologies to all. Might be a good time, or not, to link to the John Demjanjuk story."
Perhaps what's notable here is that the comment comes just weeks after James was righftully roasted in the media for muttering "retarded" under his breath at a reporter's question. Athletes have everything they say blown up into overwhelming scrutiny, regardless of their intent or the severity of the comment. It does not, in any way, excuse the comments themselves, but Raab's commentary at least makes note of the fact that our issues with discretion still very much stretch across athlete and media boundaries. Everyone's said or done something they regret, within the past year, I'd bet. Even the man that looks down so far on King James.
As
Eric Freeman points out
, as offensive as the comment is to descendants of Holocaust survivors, the comment also is an issue for Germans. Dirk Nowitzki has been an exemplary NBA player in his time in the league and last night was a cause to celebrate his brilliant play. Instead, we're dealing with the horrific consequences of Germany's sociopolitical evolution and their severe mistakes nearly seventy years ago.
Raab emailed CBSSports.com to say he had no further comment beyond the apology tweeted publicly.