Sometimes efficiency really is the difference. In Game of Mavericks vs. Thunder, Dirk Nowitzki and his dominating efficiency was the difference. Posted by Matt Moore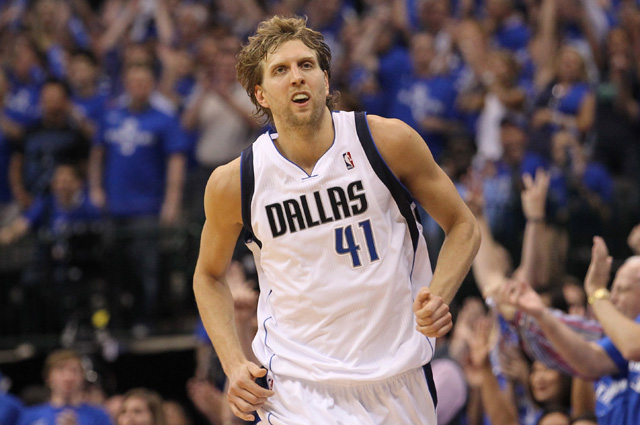 This wasn't a crazy fast game. There were 91 estimated possessions, which just isn't a lot. It's not an abysmal amount, it's just below the season average for NBA teams. In short, in a game where every possession was crucial, Dirk Nowitzki made the most of his. Every single one, just about.
48 points on 15 shots and 24 free throws. Three misses, combined. Dirk Nowitzki shot a basketball 39 times and missed thrice. It was an other-wordly performance. It was the stuff of legend. And Dallas needed every single bit of net Nowitzki earned. The Thunder will have to focus on how Dirk Nowitzki can't possibly duplicate that performance. The Mavericks will counter how the Thunder can't rely on
Kevin Durant
scoring 40 each game. The Thunder will reply that
Jose Juan Barea
isn't likely to continue to play at that level, and the Mavericks will suggest the Thunder ask the
Lakers
about that. The Thunder have
Russell Westbrook
's struggles. The Mavericks have
Peja Stojakovic
and
Jason Kidd
going 2-9 combined. The list goes on.
But through it all is this. When the Mavericks needed him, Dirk Nowitzki gave the Mavericks exactly what was called for: A nearly flawless game. The Thunder want to continue going one-on-one with Nowitzki, putting players like
Thabo Sefolosha
and
James Harden
on him? There's no reason he can't amass 24 free throws per game, or score 50. The Thunder made a decision not to double. It was a not a winning strategy, because Nowitzki is not any other player. He is one of the best offensive players this league has ever known.
So much of the playoffs depend on matchups. I chose Oklahoma City in six for my prediction, based largely on those matchups, and I feel largely the same about them a game later. But there are players that transcend matchups, who are their own universe of inequality in terms of capability against their opponent. Durant is such a player, when he's truly in his finest form. But Nowitzki was just a little bit better Tuesday night. And that was because of his efficiency. Durant was good in that area, too, scoring 40 on 18 shots, missing only eight. His three turnovers were just one worse than Nowitzki's two. But that difference was very much the game. Nowitzki responded to what his team needed.
But more than that is the fact that the Mavericks could count on points when Nowitzki touched the ball. It wasn't an opportunity or a good chance, it was a near certainty. "Give this guy the ball, he'll get points." At the most basic level of basketball, it was the very definition of success. When Nowitzki touched the ball, he failed only twice, missed only three times. There are a lot of questions about whether efficiency is really as valuable as some make it out to be.
In Game 1, it was very much the difference between a win and a loss for the Mavericks.
Game 2 is Thursday.